Kim Jong Un inspects a nuclear fission bomb.
Nuclear Weapons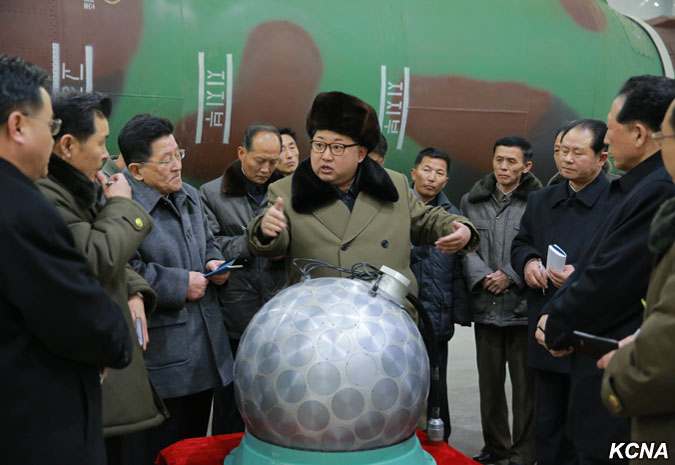 This bomb has a 122 point implosion system based on a dodecahedron (12 sides). Each side in a dodecahedron is a pentagon. Within each pentagon is a circle surrounded by 5 circles. Surrounding these 6 circles is half a circle at each edge and one third of a circle at each corner. So each pentagon has [6 + 5/2 + 5/3] circles. The entire bomb has (12 x [6 + 5/2 + 5/3]) = 122 circles. The more explosive lenses you have, the more efficient the compression, and the smaller the thickness of your lenses. This means that the bomb is smaller, and you can use less fissile material. Fat Man (Nagasaki) had a 32 point implosion system, a soccer ball, which has 12 pentagons, 20 hexagons, and 60 vertices(corners). Subsequent designs improved on this by using a 92 point implosion system. A 92 sided ball is created by taking a soccer ball and putting hexagons centered at each of the 60 vertices; 32+60=92. The Democratic People's Republic of Korea is, as far as I know, the only country to have used more than 92 lenses in a bomb, 122 in this case. Translation: This is a good bomb. Estimates on how many bombs they can produce should focus on the high end since they need less fissile material for a bomb. Soon after developing the 92 point implosion system the US developed two point linear implosion and two point hollow pit implosion, reducing the size and complexity of bombs. This should be the next step for the DPRK if they haven't already achieved it.
North Korea is known to have begun work on an atomic bomb as early as 1989. A. Q. Khan, the Pakistani expert on uranium enrichment, visited North Korea several times in the early 1990's. He claimed that North Korea's nuclear program was already advanced at this stage. North Korea has a policy adopted after the end of the Korean War in 1953 called "Songun" which means "military first". All nuclear power infrastructure has military application first, civilian application second. The Soviet Union began training North Korean scientists and engineers to initiate a nuclear program in 1956, and the two countries signed a nuclear cooperation agreement in 1959. It is known that North Korea began extracting plutonium from reactors for nuclear bombs in 1989, possibly as early as 1965 when their IRT-2000 light water reactor at Yongbyon achieved a power rating of 2MW(thermal). It was completed in 1962, and they were using it for fission experiments since 1963. In 1962 North Korean Foreign Minister Pak Song Chol wrote to the USSR Ambassador, "who can impose such a [non proliferation] treaty on countries that do not have nuclear weapons, but are perhaps successfully working in that direction." The IRT-2000 reactor reached a 4MW(thermal) power rating in 1974. North Korea constructed a factory at Yongbyon to refine yellowcake and produce fuel for reactors in 1980. They began operating a reprocessing plant used to separate plutonium from spent nuclear fuel at Yongbon in 1984. Also in 1984, North Korea completed construction of a 5 MWe gas-cooled, graphite-moderated nuclear reactor for plutonium production and began construction of a 50MWe gas-cooled, graphite-moderated nuclear reactor at Yongbyon and a 200MWe gas-cooled, graphite-moderated nuclear reactor at Taechon. If operating at full power for a majority of the year the 5MWe reactor could produce 7.5 kg of weapons grade plutonium annually; 5 kg is needed for a bomb. The IRT-2000 reactor was upgraded to 8 MW in 1987. They began operating a 20MeV cyclotron in 1990. Cyclotrons are what Saddam Hussein was using to enrich uranium. Iraq decided to use cyclotrons instead of more economic and efficient methods like centrifuges because they were easier to build, with fewer technical challenges, and their components were not subject to export controls. North Korea conducted 70–80 high-explosive implosion tests at Yongbyon in 1990. From 1993-1994 North Korea provided Pakistan with the Rodong missile and production technology in exchange for gas centrifuge technology. The P-1 is a first generation centrifuge with an aluminum alloy rotor. The P-2 centrifuge is fitted with a maraging steel rotor. The P-2 centrifuge is more powerful and rotates faster, thereby more than doubling the uranium throughput per machine relative to the P-1 centrifuge. North Koreans were seen frequently at Khan Research Laboratories. Dr. Khan supplied them with twenty P-1 centrifuges, four P-2 centrifuges, flowmeters, and control devices so that they could gain experience in the operation of centrifuges, as well as the necessary computer software. In 1998 US spy satellite imagery revealed the existence of an underground nuclear facility at Kumchang-ri. The North Koreans have been operating thousands of P-2 uranium enrichment centrifuges since before the year 2000. In 2000 the Korean Peninsula Energy Development Organization( United States, Japan, and South Korea) began construction of two 1,000 MWe light water reactors at Kumho in accordance with the Agreed Framework but construction was halted in 2003. In 2002 Kang Sok-Ju, North Korea's deputy foreign minister, admitted that the uranium enrichment program existed. In 2006 former Secretary of State James Baker revealed that North Korea had at least one nuclear bomb when he was Secretary of State (1989-1992). In late 2009, A.Q. Khan stated that North Korea may have been enriching uranium on a small scale by 2002, using 'maybe 3,000 or even more' centrifuges, and that Pakistan helped the country with vital machinery, drawings, and technical advice for at least six years. In November 2010 a delegation from Stanford University led by Professor Siegfried Hecker, formerly the Head of the Los Alamos National Laboratory, visted the Yongbyon Nuclear Scientific Research Center. He was shown early construction of a 25–30 MWe light water reactor and a centrifuge hall with six cascades comprised of 2,000 P-2 centrifuges. In 2013 the 25-30MWe light water reactor was completed. In 2015 the uranium enrichment plant at Yongbyon was upgraded with another centrifuge hall identical to the one seen by Hecker; that means at least 4,000 P-2 centrifuges and an unknown number of P-1 centrifuges are operated by North Korea. In 2018 North Korea began testing of the 25-30MWe light water nuclear reactor. To sum up, North Korea is now operating an 8MW(thermal) light water reactor, a 5MW(electric) gas-cooled, graphite-moderated reactor, and a 25-30MWe light water nuclear reactor, with 50MWe and 200MWe gas-cooled, graphite moderated reactors still under construction. They are also enriching uranium with thousands, perhaps tens of thousands, of P2 centrifuges. This is what is known publicly. North Korea is hiding much more. I estimate that North Korea has produced 560-580 kilograms of Pu-239 and 2,000-2,250 kilograms of U-235. This could be a very conservative estimate. This is enough for about 240 nuclear fission bombs or about 100 hydrogen bombs and 20 uranium fission bombs from the left over uranium. It depends on what kind of bombs they build. If the DPRK doesn't use all of their fissionable material for hydrogen bombs this would allow for a much more diverse arsenal including EMP and Super EMP bombs on ballistic missiles, battlefield nuclear artillery, battlefield air-dropped and ballistic missile fission bombs, atomic demolition munitions, nuclear torpedoes, nuclear mines, neutron bombs, suicide infiltration devices, and cobalt doomsday bombs. North Korea has the technology and mindset to implement a dead man's switch system similar to Perimeter. North Korea is the only country conducting nuclear tests. The United States last conducted a nuclear test in 1992. The only ICBM used by the United States, the LGM-30G Minuteman 3, was produced in 1970 although the guidance systems and solid rocket fuel have been upgraded. There are about 440 of these missiles with three MIRV's each. Each MIRV contains the W-87 warhead with a yield of 300 kilotons, possibly upgraded to 475 kilotons. Up until June, 2017, these missiles were launched with software contained on the old, large, 8-inch floppy discs. Minuteman III receives upgrade. Korea's missiles and nuclear warheads are designed with state of the art materials and microelectronic components. North Korean spies have been infiltrating the US, Chinese, Russian, Japanese, and South Korean militaries, defence, nuclear power, and computer and electronics industries since the 1950's. Their strategies and tactics are Soviet in nature. North Korea is not the backward country that it is portrayed as in the US media.
This is what a war between the US and North Korea could look like. This video was made in the 1980's. There have been major reductions in the stockpile since then. The US only has about 450 Minuteman 3 missiles as opposed to the original 1000. The US has far fewer B-52's now. The nuclear bomber force is concentrated in the B-2's which are small in number and carry less weapons than the B-52. This is the major drawback for stealth aircraft. Countries that can detect stealth aircraft are now faced with fewer planes with fewer weapons.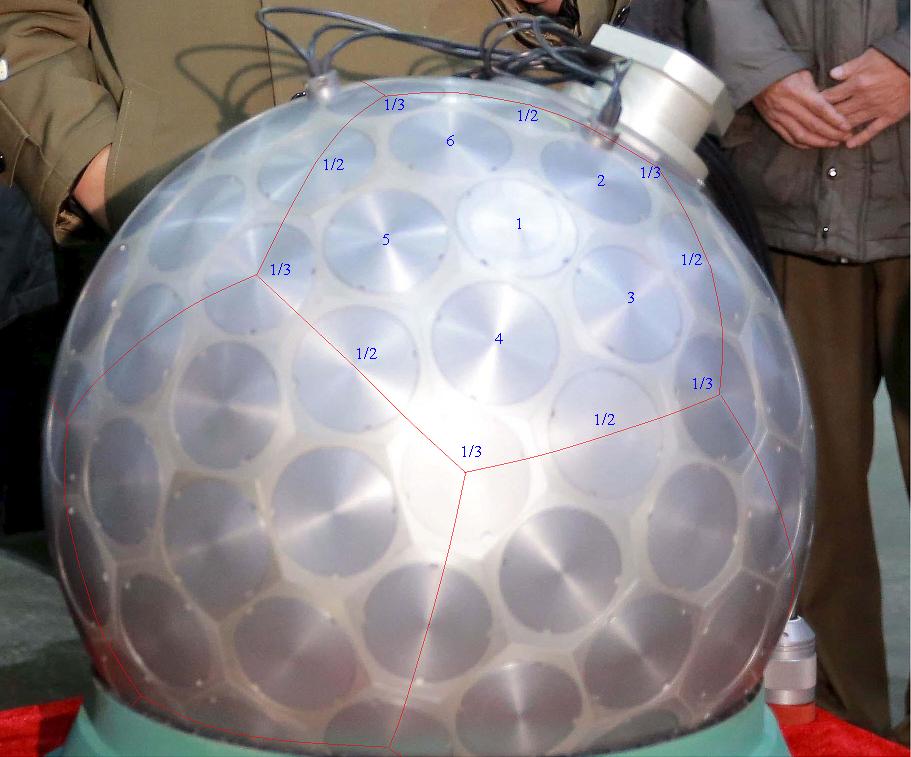 This is a Goldberg Polyhedron with T=12. The number of vertices is 20T. The number of edges is 30T. The number of faces is 10T+2. The number of faces by type is 12 pentagons and 10(T-1) hexagons. So it has 240 vertices, 360 edges, and 122 faces with 12 being pentagons and 110 being hexagons. It looks like there are less faces than there actually are. This is a class II polyedron with T =12. Because you will always see less than half of a sphere no matter the distance from the sphere, counting the number of polygons on a spherical polyhedron is not simple. You cannot simply count what you see and multiply by two. The farther away the viewer is from the sphere, the more area of the hemisphere you can see. You would have to be infinitely far away from a sphere to see an entire hemisphere at which point the sphere would appear to have a size of zero, meaning you can no longer see it.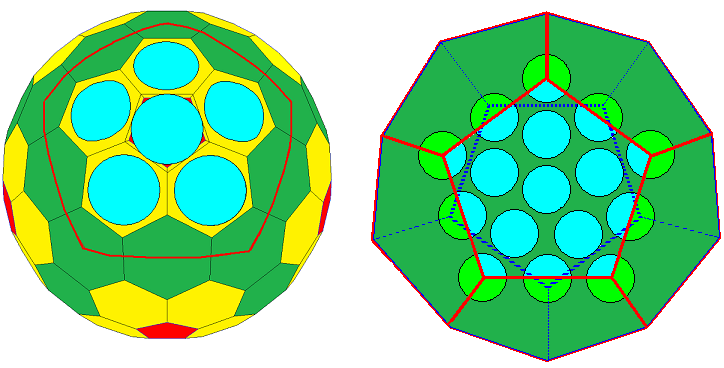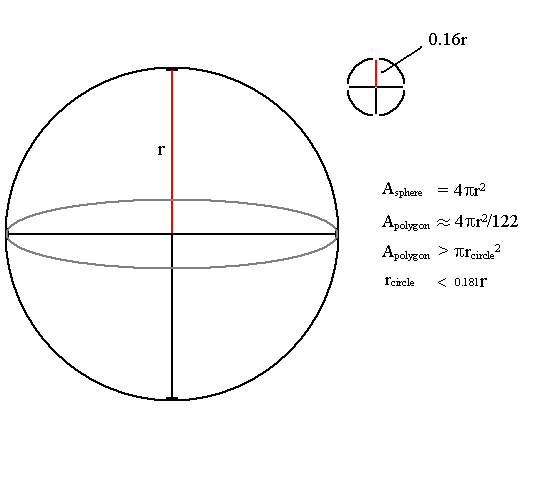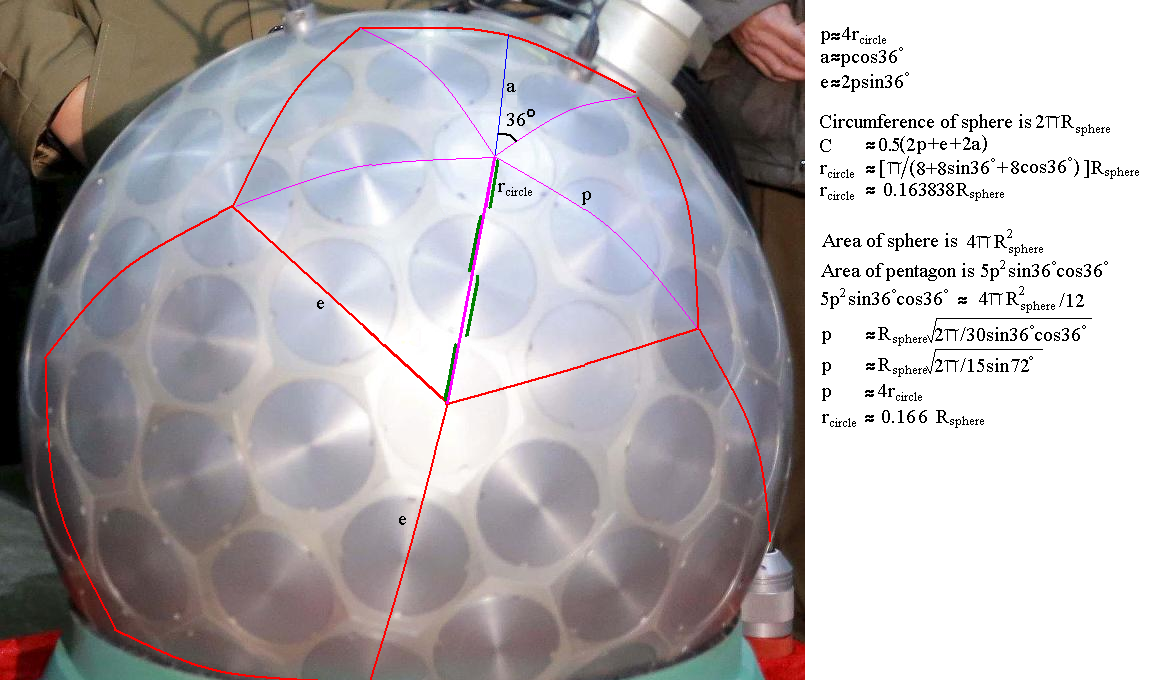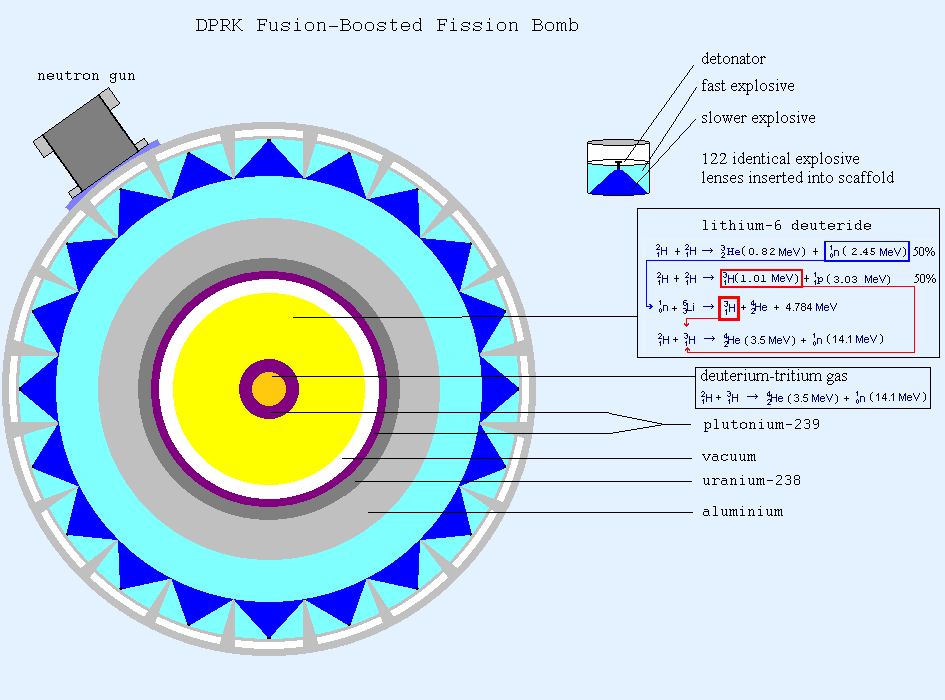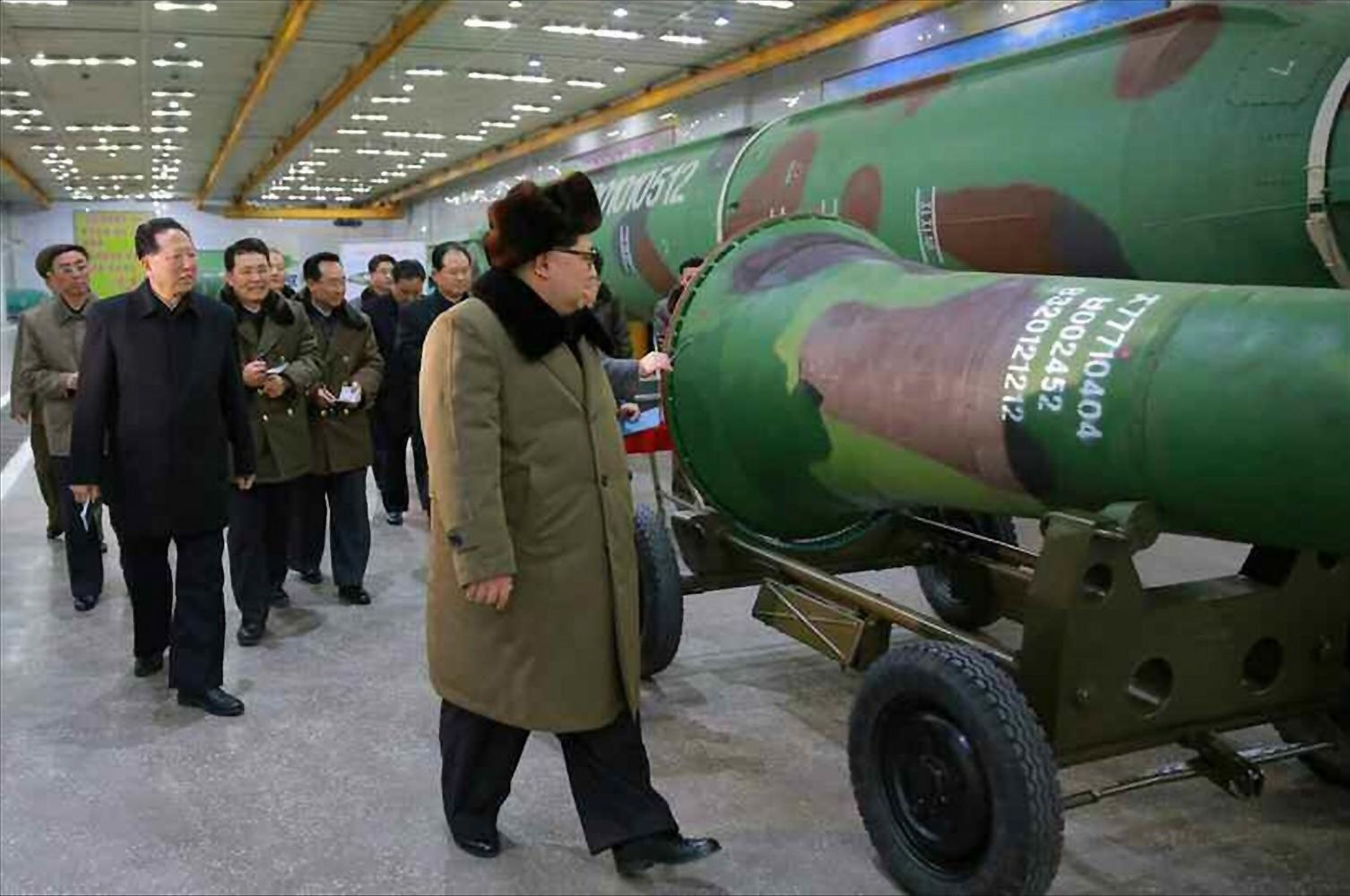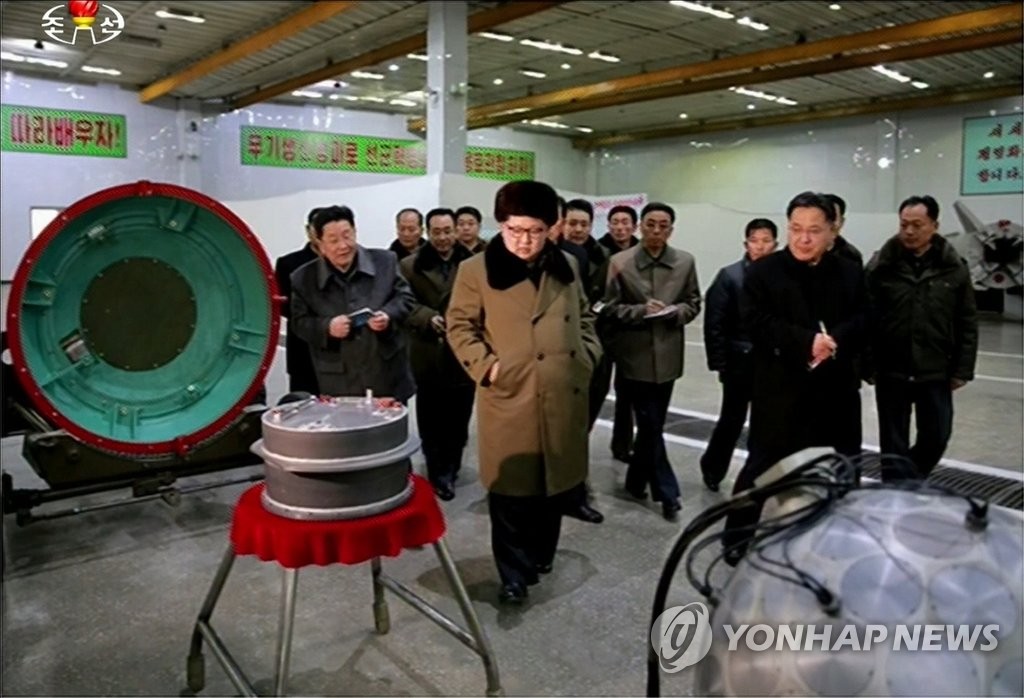 This image was intentionally blurred by the DPRK. The warhead is shaped like that because it stabilizes itself just like a badminton birdie. It has a spin mechanism as well. This warhead is called 전투8-지(Combat 8), which the US would call Mark 8.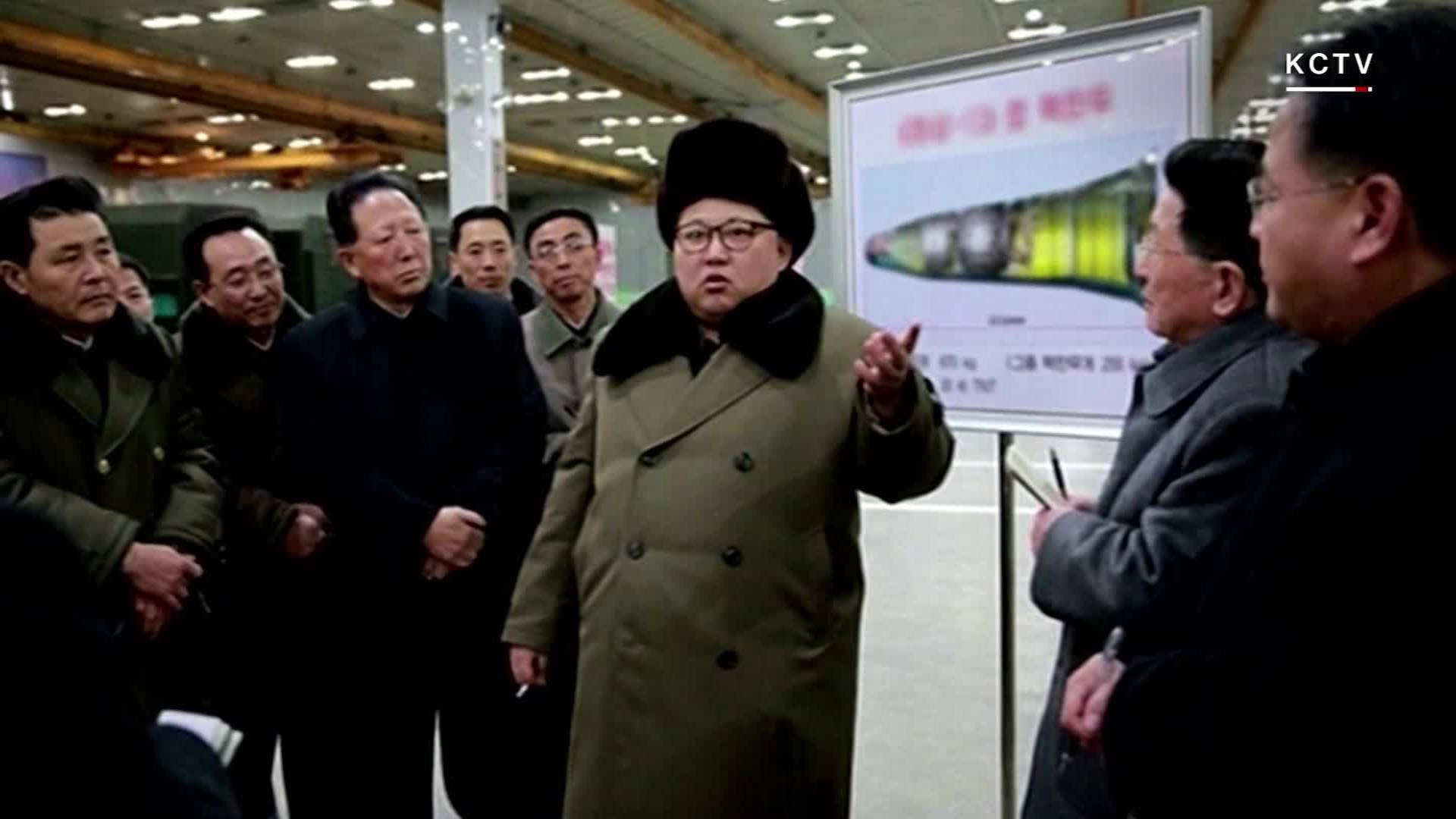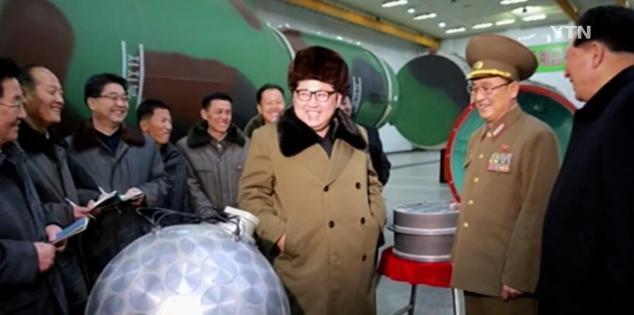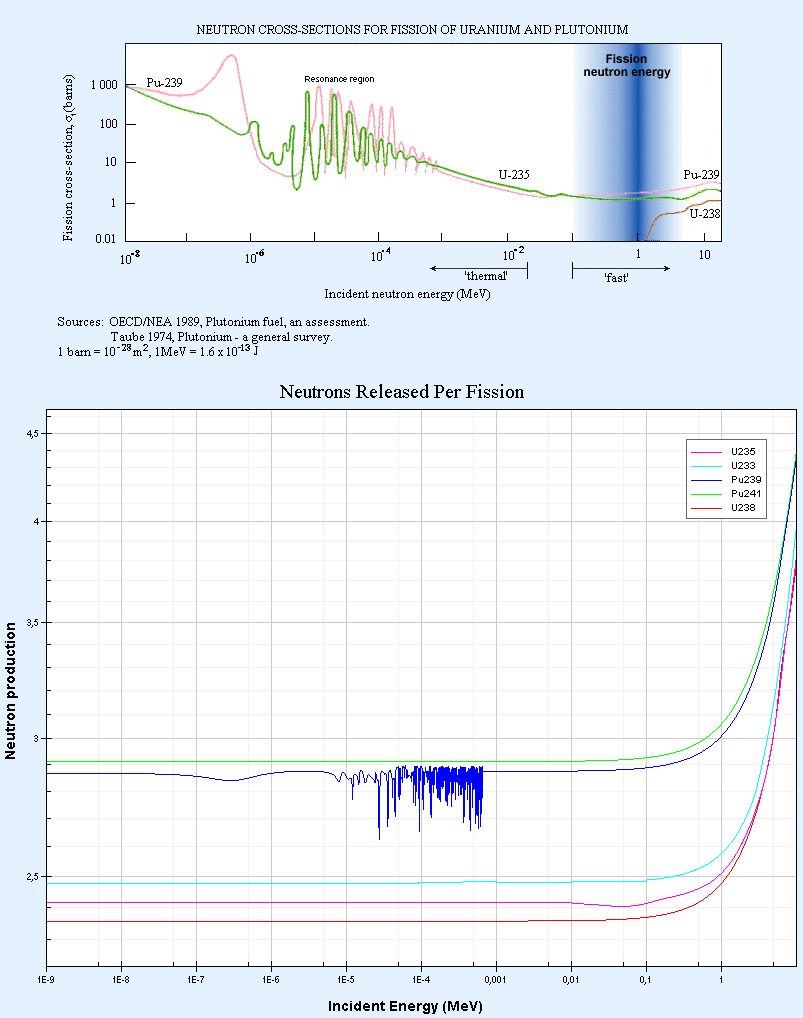 As you can see from the first graphic, 14.1 MeV neutrons produced by deuterium-tritium fusion can fission U-238. You can also see from the blue band on the right that fission produces neutrons that are high energy fast neutrons but only energetic enough to fission U-238 with a small probability, cross section. U-238, therefor, cannot sustain a fission chain reaction. The mean free path of neutrons in plutonium is greater than the radius of the plutonium core. That means the fast neutrons produced by the deuterium- tritium boosting at the center more often than not don't encounter a nucleus until they have traveled into the U-238 tamper that surrounds the core in a normal non EMP-enhanced bomb. There they can fission U-238. So some of the fast neutrons from the DT boosting fission plutonium directly and some fission U-238 in the tamper surrounding the core, producing more neutrons. You can see from the second graphic that fissioning U-238 from an incident 14.1 MeV neutron from DT fusion produces 4 neutrons on average. This applies to U-235 as well. Plutonium seems to produce closer to 4.5 neutrons from a 14.1 MeV incident neutron. The fission of Pu-239 from fission produced neutrons produces on average 2.9 neutrons. The fission of U-235 from fission produced neutrons produces on average 2.5 neutrons. The presence of the beryllium reflector surrounding the U-238 tamper reflects neutrons back toward the core, enhancing the chain reaction. Beryllium is a good reflector because it tends not to react with neutrons, and the space between its nuclei is small because its electron radius is small since it only has 4 protons.
One possible design that nobody ever talks about that Korea could have is the sloika «слойка» (РДС-6с), which was the fourth nuclear bomb the Soviet Union tested, RDS-6s. The fission core is surrounded by alternating layers of deuterium-tritium gas and uranium 238. Deuterium-tritium fusion occurs in the sandwiched layers, and the fast neutrons that this produces fissions some of the uranium 238. Joe 4, as the bomb was called in the West, had a fusion percentage of 15 to 20% resulting in a 400 kiloton yield mostly from fast fission of uranium 238. So the fusion yield is 1/5 of 400 kt which is 80 kt. If the fissile core yield is 20 kt, that means 300 kt or 75% of the yield is from the fissioning of the normally nonfissile U-238, depleted uranium. This design was improved by replacing the deuterium-tritium gas in the layers with lithium deuteride, a solid, in the RDS- 27 test. The neutron environment from the fissioning core produces tritium from the lithium. This bomb had a yield of 250 kilotons. The Sloika has been denigrated a lot since it is not considered a true hydrogen bomb and the fusion yield is smaller and can't be scaled up. I like this design. It is a lot simpler than the Teller-Ulam configuration, and 250 kilotons is a large yield. Why wouldn't Korea build this bomb? You are turning a 20 kiloton bomb into a 250 kiloton bomb, and no additional fissile material is necessary; just lithium deuteride and depleted uranium. You cannot find an accurate image of the sloika design by doing a Google search or a Yandex search. All these images show an entire nuclear bomb in the center with fission and fusion layers surrounding the explosive lens system. I did not believe this design could work. So I made the graphic the way it is. I eventually found a PDF file in Russian that explained that this was the original idea, but further study showed that the entire system needed to be imploded. So my graphic is correct; just the number and thickness of layers for best results is not known. I've seen 7-12 layers, but that was accompanied with the incorrect graphic. The wrong graphic for the sloika is on both the English and Russian internet. The sloika may in fact be the Super EMP design. This depends on what kind of initial gamma pulse it produces. Only the Russians have detonated such a device as far as I know. It's probably next to impossible to find out this information. Most of the yield of the sloika, about 75%, comes from fission of the depleted uranium layers. This should produce gammas around the same energy as that produced by the fissioning of U-235 and Pu-239. You are getting a lot of fission with only one critical mass. I think it may work as a super emp because you don't have the problem with the H-bomb where the primary is separate and already producing a gamma pulse before the secondary fully ignites. The gammas from a detonating sloika should only be able to escape when the system has expanded and fully detonated.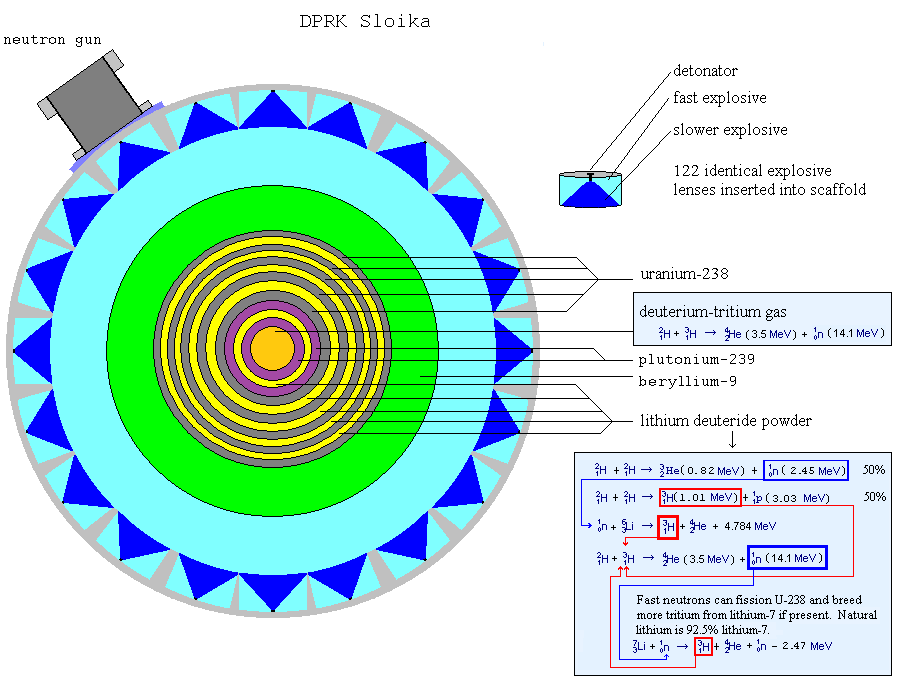 I don't understand why Korea hasn't conducted an atmospheric nuclear test. They could learn valuable information from doing so, and it would send a message. They are going to be sanctioned anyway. A multimegaton test may require them to conduct it in the atmosphere or underwater.
Kim Jong Un inspects a Korean style hydrogen bomb being loaded into an ICBM. The primary in a hydrogen bomb has the sole purpose of detonating the secondary. These usually don't have a uranium tamper to enhance the yield of the primary, just a beryllium reflector. That is why the primary is smaller than a fission bomb. I think a uranium tamper could possibly impede the energy transfer to the secondary. One method to variable yield is changing the amount of deuterium-tritium gas in the primary, increasing its yield: ouput of gammas and neutrons, which increases the yield of the secondary. The primary probably looks like a smaller version of the atomic bomb. It is the larger round section. When they tested this bomb it produced an earthquake of 6.4 magnitude, which the Comprehensive Nuclear-Test-Ban Treaty Organization (CTBTO) said produced the largest ever seismic signal for a nuclear test. The blast may have been too large for an underground test because eight minutes later a 4.1 magnitude event was detected which is believed to be a burst fracture of the surrounding rock; the seismic signal did not correlate with a nuclear test, earthquake, crater or tunnel collapse, or landslide. A 6.4 earthquake corresponds to a 4 megaton yield. A 6.0 earthquake corresponds to a 1 megaton yield. A 4.0 earthquake corresponds to a 1 kiloton yield. Earthquake magnitudes are dependent on the type of rock in which the earthquake occurs. So the exact yield of the bomb is not known, but it is definitely in the megaton range. It's possible they designed it for exactly one megaton and could have gotten a surprisingly larger yield, which has happened in numerous nuclear tests. I don't think they were prepared for the damage to the mountain or surrounding villages. The thermonuclear warhead is designed to fit in a conical MIRV pictured in the diagram in the background. It looks like they can only fit one hydrogen bomb MIRV in the shroud of the Hwasong-14, with some space left over, which means more nuke and missile tests. The silvery white metal that encases the two stages could be titanium with an interior layer of beryllium or depleted uranium as the radiation case. It reflects x-rays that the material(styrofoam, ethane gas, etc.) in the radiation channel converts from the gamma rays produced by the primary nuclear explosion. It also produces x-rays itself from the bremsstrahlung effect. The resulting plasma and x-rays ablate(vaporize) the outer surface of the secondary, resulting in inward thrust(compression) and a super-heated, super-compressed sandwich of fission and fusion fuel. This results in a deuterium-tritium thermonuclear burn sandwiched inside the fissioning secondary fission fuel. Fast neutrons produced from the fusion burn also fission some of the atoms in a depleted uranium case, increasing the yield. The cylinder behind the bomb contains the power supply, firing circuits, and other electronics and may be encased in uranium or some other material, hardening it against EMP, gammas, and neutrons from antimissiles and nearby nuclear explosions. The device on top of the cylinder may be an inertial or star navigation device or electronic countermeasures. This bomb contains an injector port for deuterium-tritium gas allowing for variable yield. Korea releases pictures of their weapons to prove to the American government that their weapons are real. Many people believe the pictures Korea releases are fakes because they have never seen the real thing since the American government classifies images of nuclear bombs. These pictures are also helping other nations that may want to develop thermonuclear weapons.
The Richter Earthquake Magnitude Scale, which was perfected by Charles Richter of Cal Tech in 1935, has always been misleading for people who are not used to thinking logarithmically. In this case, it's log-10: every whole position is 10 times greater than the one before. Therefore, if 4.0 is taken to be the equivalent of 10 units, 5.0 is 100.
But according to a new way of measuring earthquakes, based on the seismic "moment of force," translated to the equivalent energy released by an explosion of TNT, the Richter Scale is converted from a log-10 to a 2/3 log-10 scale. In this scale, every positional increase, e.g. Richter 4.0 to 5.0, goes up by a factor of 31.62, which we can round to 32. Thus, R 2.0 corresponds to the detonation of 1 ton of TNT, R 3.0 = 32t, R 4.0 = 1000t, R 5.0 = 32,000t, 6.0 = 1,000,000t, 7.0 = 32,000,000t, and so on. This "Moment Magnitude" is represented by Mw. The "w", introduced by Hiroo Kanamori in 1977, presumably stands for "work"; it refers to "elastic strain energy." The formula used here is: Tonnage = 10(1.5R-3).
The Kelly Kiloton Index (KKI), formulated in 2006 by H. A. Kelly of UCLA, in consultation with Geoffrey Mess of the UCLA Math Department, aims at giving a "realistic" picture of earthquake energy. It uses the kiloton (= 1000 metric tons = 2,200,000 lbs) as the basic unit. Here is the KKI range for Richter 6.0 to 6.9 and for 7.0 to 7.9:
The black thing bolted to the bomb with three bolts is the neutron gun. Their original atom bomb has a three bolt attachment connected to it as well and at the same angle.
The dial-a-yield deuterium-tritium gas injector port is clearly visible in this picture.
Full detonation of this bomb goes really fast. If the bomb is 1.4 m in length, the primary center to secondary center is about 0.8 m in length. Given that the speed of light is 300,000,000 meters/second and the mean fission neutron has an energy of 2MeV, which means it travels at 14,000,000 meters/second or 6.7% the speed of light; photons reach the midpoint of the secondary 2.67 nanoseconds after detonation of the primary, and neutrons reach the midpoint of the secondary in 57.1 nanoseconds. So you want the secondary to be fully compressed around 57 ns after the primary nuclear explosion. Neutrons should already be impacting the secondary at this time.
This bomb doesn't weigh much. The mass of the plutonium is about 5 kg, and the mass of the uranium is about 15 kg. Titanium and beryllium are low mass materials. I can make a guess on the weight of about 40 kilograms? or 88 pounds, give or take. This does not include the electronics package. Since the secondary is almost three times the mass of the primary, the bomb is heavier at the smaller end. A warhead that contains this bomb should be able to be delivered by the Hwasong-15 to any location in the United States. The re-entry vehicle shown in the pictures is for the Hwasong-14 ICBM. That is why it is conical as opposed to the other re-entry vehicles. This vehicle experiences a much more extreme environment (Mach 25) than the re-entry vehicle for the Musudan, Pukguksong-1, Pukguksong-2, and Hwasong-12. Those vehicles could not survive re-entry under these conditions. Even this vehicle may not be able to withstand a direct up and down trajectory, "lofted". It is coming straight down at something like Mach 25 right into dense atmosphere. Normal trajectories have the warhead coming in almost horizontally because of the distance traveled, allowing time for lesser heat energy to dissipate over a longer amount of time. At some point they are going to have to test an ICBM on an actual ICBM trajectory to make sure the warhead survives.
"Pyongyang, September 3 (KCNA) -- The Nuclear Weapons Institute of the DPRK gave the following statement in connection with the perfect success in the test of a hydrogen bomb for ICBM: Scientists in the nuclear field of the DPRK successfully carried out a test of H-bomb for ICBM in the northern nuclear test ground of the DPRK at 12:00 on September 3, true to the Workers' Party of Korea's plan for building a strategic nuclear force.
The H-bomb test was carried out to examine and confirm the accuracy and credibility of the power control technology and internal structural design newly introduced into manufacturing H-bomb to be placed at the payload of the ICBM.
The result of the experimental measurements showed that the power specifications of nuclear warhead including total explosion power and fission to fusion power rate and all other physical specifications reflecting the qualitative level of two-stage thermo-nuclear weapon fully complied with design figures.
It was also confirmed that even though the recent test was carried out with the bomb of unprecedentedly big power, there were neither emission through ground surface nor leakage of radioactive materials nor did it have any adverse impact on the surrounding ecological environment.
The test re-confirmed the precision of the compression technology of the first system of the H-bomb and the fission chain reaction start control technology and proved once again that the nuclear material utility rate in the first system and the second system reached the levels reflected in the design.
Symmetrical compression of nuclear charge, its fission detonation and high-temperature nuclear fusion ignition, and the ensuing rapidly boosting fission-fusion reactions, which are key technologies for enhancing the nuclear fusion power of the second-system of the H-bomb, were confirmed to have been realized on a high level.
This helped prove that the directional combination structure and multi-layer radiation explosion-proof structural design of the first system and the second system used for the manufacture of the H-bomb were very accurate and the light thermal radiation-resisting materials and neutron-resisting materials were rationally selected.
The test helped draw the conclusion that the Korean-style analytic method and calculation programs for the complicated physical processes occurring in the first and second systems were put on the high level and that the engineering structure of the H-bomb as a nuclear warhead designed on the Juche basis including the structure of the nuclear charge of the second system was creditable.
The test once again confirmed the reliability of the concentration-type nuke detonation control system fully verified through a nuclear warhead detonation test and test-launches of various ballistic rockets.
The perfect success in the test of the H-bomb for ICBM clearly proved that the Juche-based nukes of the DPRK have been put on a highly precise basis, the creditability of the operation of the nuclear warhead is fully guaranteed and the design and production technology of nuclear weapons of the DPRK has been put on a high level to adjust its destructive power in consideration of the targets and purposes.
It also marked a very significant occasion in attaining the final goal of completing the state nuclear force.
The Central Committee of the WPK extended warm congratulations to the scientists and technicians in the nuclear field in the northern nuclear test ground on their successful H-bomb test for ICBM."
North Korea's foreign minister claimed that "the most powerful detonation" of a hydrogen bomb could be conducted by the DPRK over the Pacific Ocean. The largest ever nuclear explosion was the detonation of the Tsar Bomba «Царь-бомба» at 58 megatons. This was scaled down from the original design of 100 megatons because of the possible damage over a large distance and fallout concerns. North Korea has conducted black out drills in towns along the east coast of the country, possibly preparing for EMP side effects. Creating the largest nuclear explosion in the history of mankind would be something that North Korean propaganda would like to do.
This is North Korea's first implosion fission bomb. This picture was taken sometime in the 1990's, possibly as late as 2000, judging by Kim Jong Il's hair pattern. According to former Secretary of State James Baker, North Korea had a crude nuclear bomb while he was Secretary of State. He served between 1989 and 1992. That bomb possibly was a uranium gun-type bomb.
Since this bomb only has 32 lenses, which means they are thick, and the bomb is small, there may not be a uranium tamper and possibly no fusion boosting. If this is just a sphere of plutonium surrounded by an explosive lens system, it probably has a yield of less than a kiloton.
Pukguksong-2
Korea has a two stage, solid fueled medium range nuclear missile, the Pukguksong-2 《북극성-2》, which can fit two Combat-5(전투5-지) re-entry vehicles. "Pukguksong" is Korean for "Polaris", the North Star. Polaris was a two stage, solid fueled, American SLBM that looked very similar to the Pukguksong. It's possible that much of North Korea's technology was obtained from the interception of classified US documents from the Pueblo Incident. In 1968 the North Koreans capured the USS Pueblo, a spy ship. Vast amounts of classified material were seized before the crew had a chance to destroy it. Encrypted communications devices were also seized which North Korea and the Soviets reverse engineered, allowing them to listen to US Naval communications up until the late 1980's. They even gave their submarine launched missile the same name as the one the US was using in 1968, "Polaris". It's also possible that old US missile designs are being given to North Korea by another country that obtained them through espionage or by a faction in US intelligence. The Polaris A3T missile had a 3-MIRV warhead. The Pukguksong-2 is a wider, land-based version of their solid fueled SLBM, the Pukguksong. Since it is solid fueled, its preparation for launch time is very short. Plus, it has a tracked TEL (Transporter Erector Launcher), which the Koreans referred to as "caterpillar". The caterpillar should be able to travel over rugged terrain and hide from spy satellites. This missile tested maneuvers to defeat a missile defense system. You can see it change direction after the second stage burns out in the video below.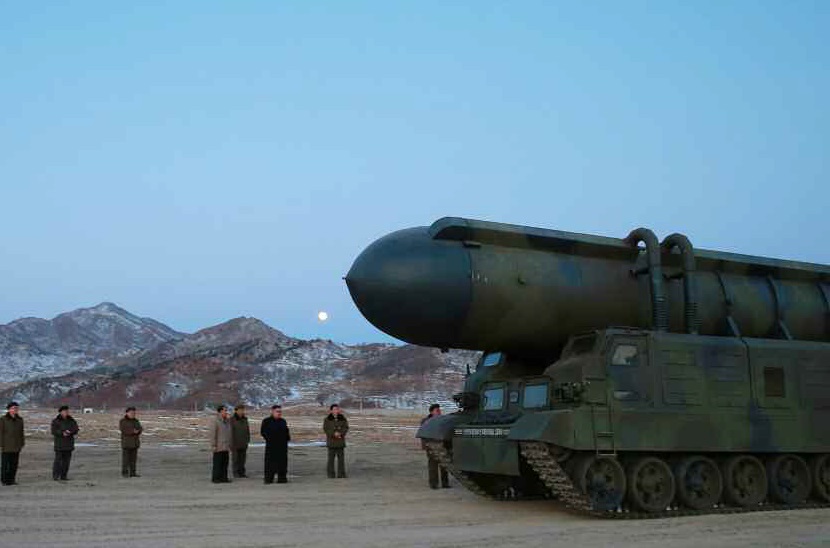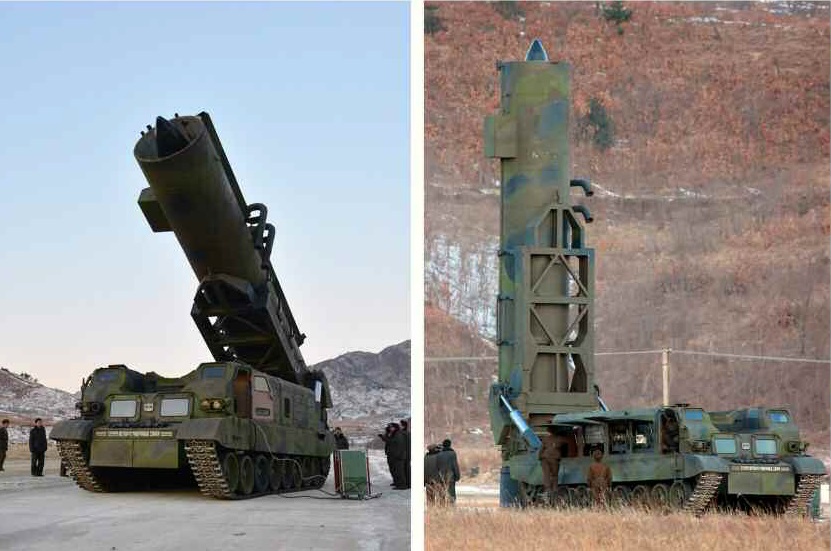 The rubber spacers surrounding the missile in the below image are rectangular in appearance. The ones in the picture following that are jigsaw-shaped.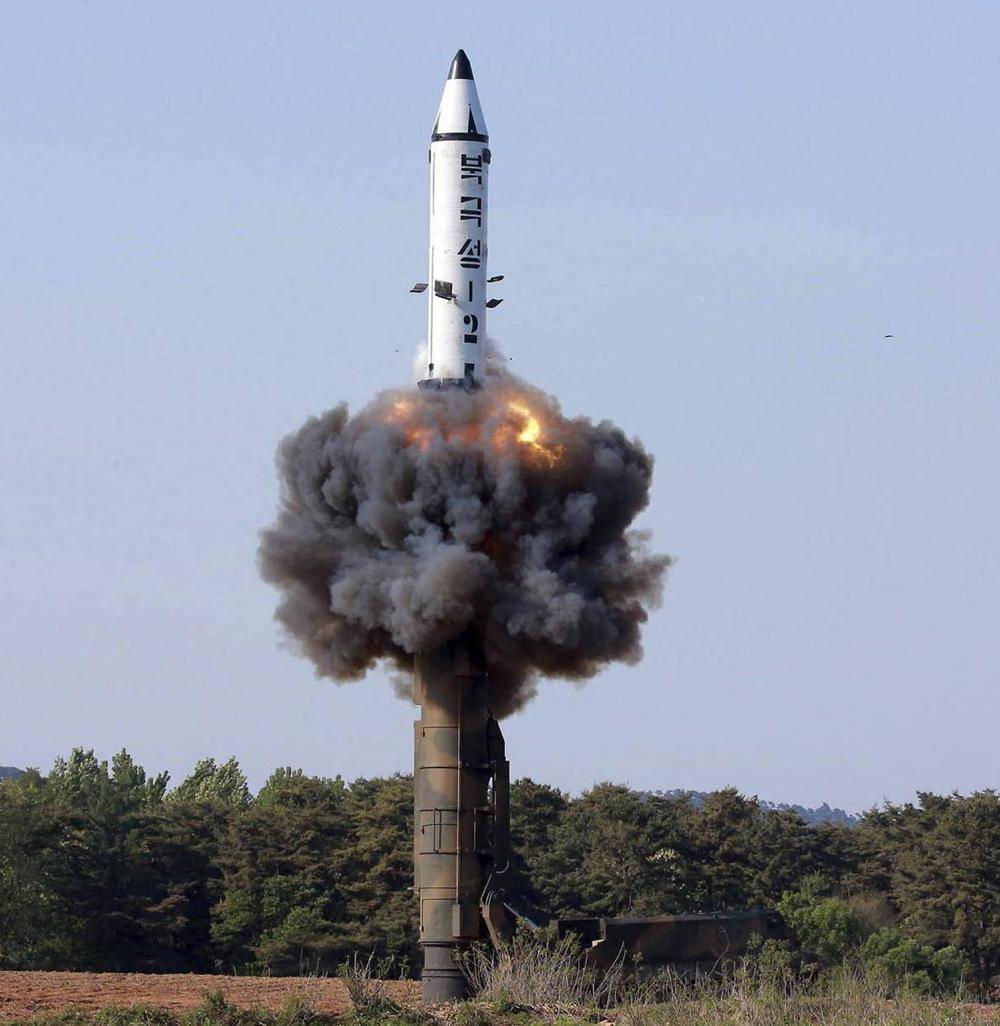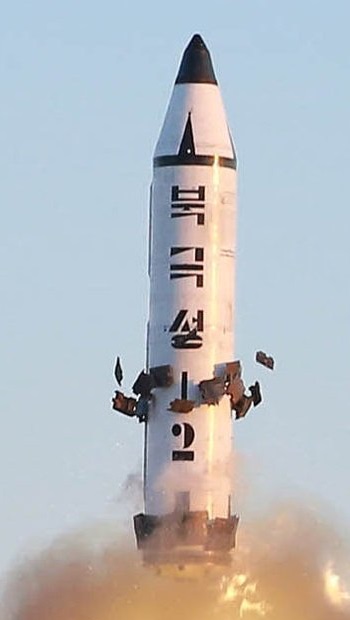 The Chevaline Penetration Aid Carrier was used on the British Polaris A3TK missile.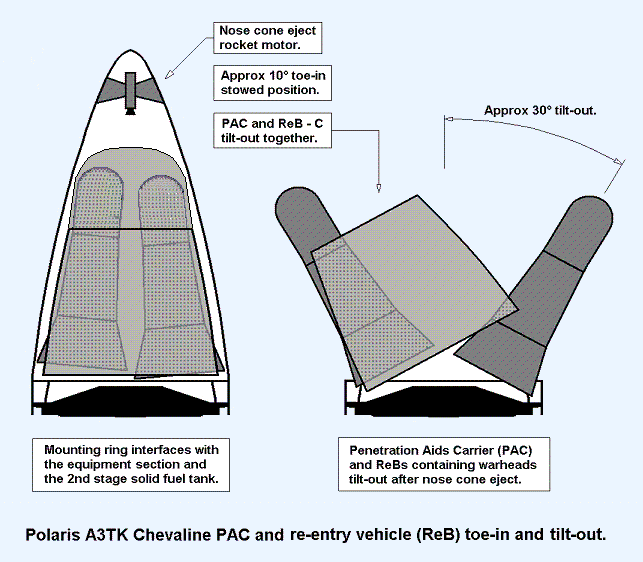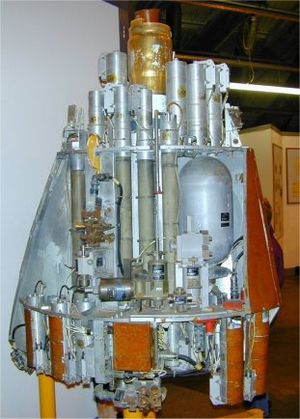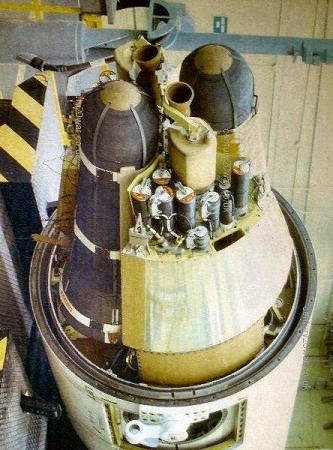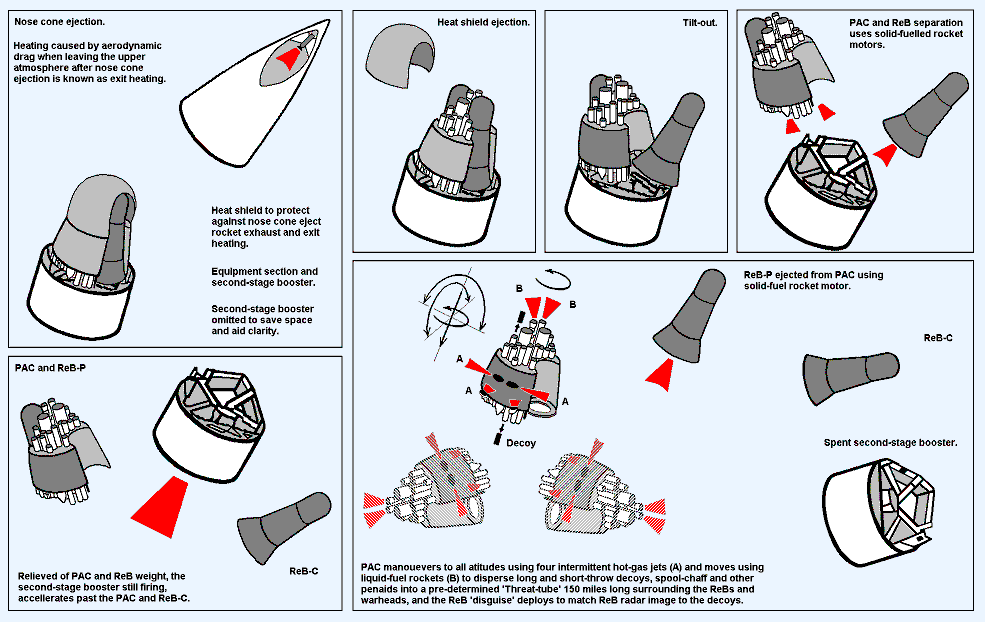 United States Polaris A3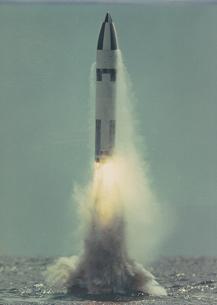 Second stage firing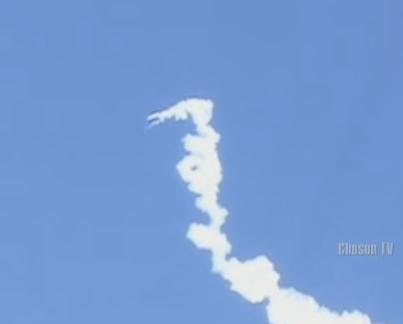 Warhead changing direction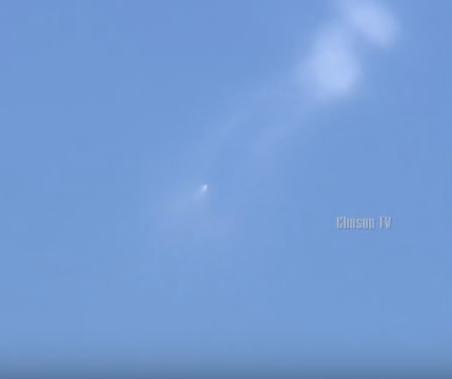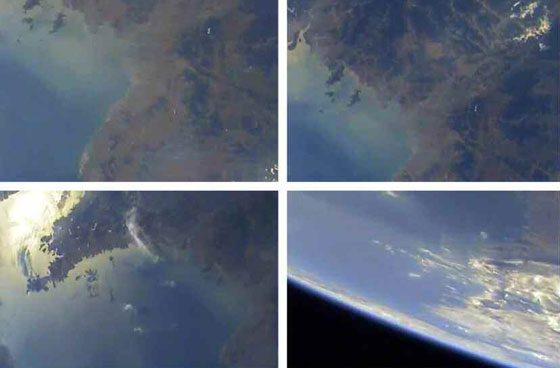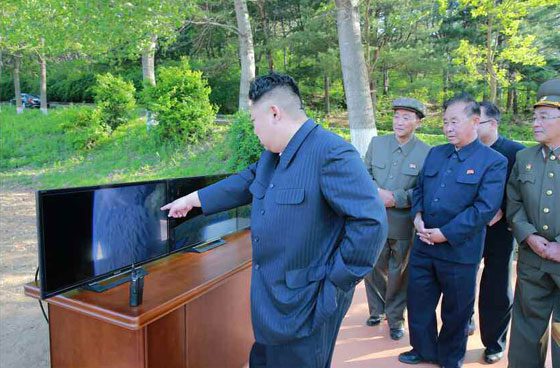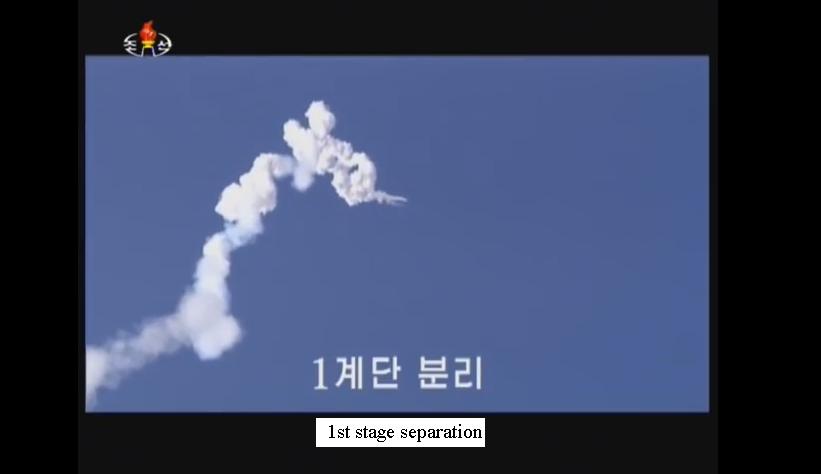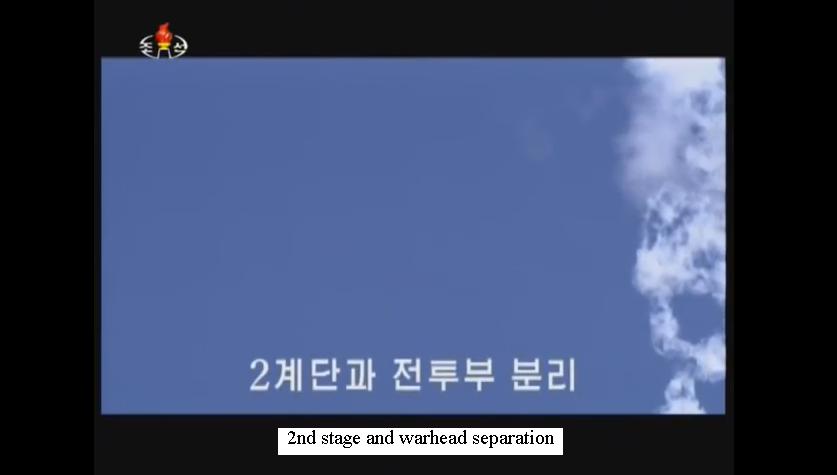 The DPRK tested this heat shield for a nuclear warhead re-entry vehicle. They put it under the exhaust of a rocket firing, producing temperatures much greater than ballistic re-entry.
Electromagnetic Pulse
Look. It's the Kwangmyongsong-3 Unit 2 《광명성―3》호 2호기 satellite. What a strange configuration of solar panels.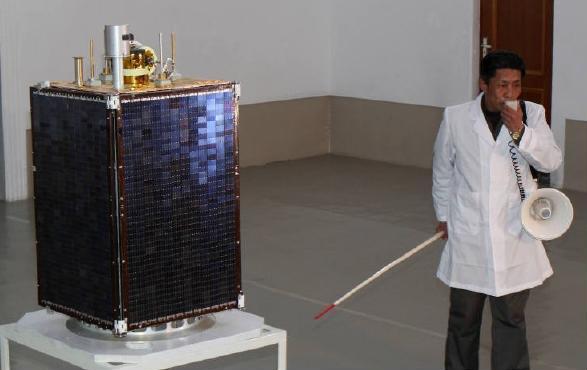 The DPRK may have an EMP nuclear device in orbit. Kwangmyongsong-3.2《광명성―3》호 2호기 and Kwangmyongsong-4 《광명성-4》 are in polar orbits that bring each of them over the United States twice a day. Kwangmyongsong means "lodestar", a star that is used to guide the course of a ship. These satellites are at the perfect altitude for an EMP covering the continental US, 300 miles. An EMP does not require a hydrogen bomb level yield. In fact, two stage hydrogen bombs are inefficient at creating EMPs because the fission primary can pre-ionize the atmosphere and the prompt gamma emission is much less than 1% of yield; Nuclear Electromagnetic Pulse. Small pure fission weapons with thin cases are far more efficient at causing EMP than most megaton bombs. From the wikipedia article: "The total prompt gamma ray energy in a fission explosion is 3.5% of the yield, but in a 10 kiloton detonation the triggering explosive around the bomb core absorbs about 85% of the prompt gamma rays, so the output is only about 0.5% of the yield." The prompt gamma output for hydrogen bombs is much less than 0.5%. The fission bomb that Korea released images of has 122 lenses, meaning the lenses are thinner than those in the bombs tested by the US. Also, the bomb doesn't even have a case. You can see the geometry of the lenses and count them. That means the exploded lenses probably absorb less than 85% of the prompt gamma rays, and the prompt gamma output is probably much higher than 0.5% of yield. If you are testing an EMP bomb, you may only be able to measure the gamma ray flux at a considerable distance, meaning you would test it in a large void, cavern. This decouples the energy, resulting in a smaller earthquake magnitude than you would expect for the yield. Kwangmyongsong-4 has the same heighth as Kwangmyongsong-3.2, but it is wider and more cube shaped. Since Kwangmyongsong 3.2 was Korea's first successful satellite launch and Kwangmyongsong-4 is wider, it is more likely that only Kwangmyongsong-4 contains an EMP weapon. Kwangmyongsong-4 was launched one month after Korea conducted a nuclear test in January of 2016 which they claimed was a hydrogen bomb test. I thought this claim was absurd when I first heard it because of the reported earthquake magnitudes. After further research and the discovery of what appear to be lies, I am inclined to believe it.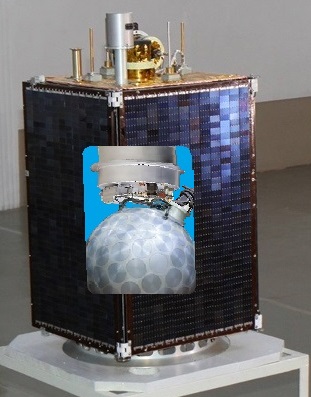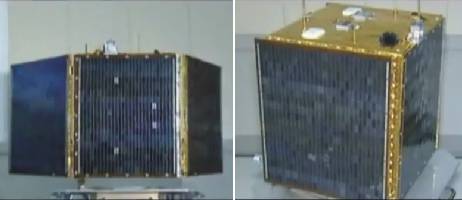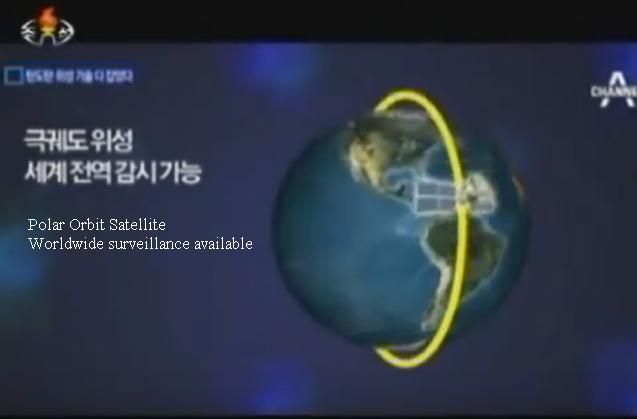 You can track the Kwangmyongsong-3.2 satellite here.
You can track the Kwangmyongsong-4 satellite here.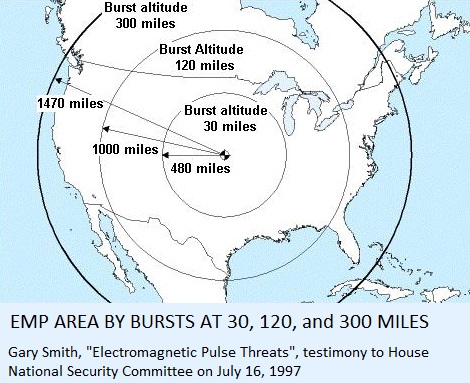 Both of these satellites orbit at 300 miles altitude.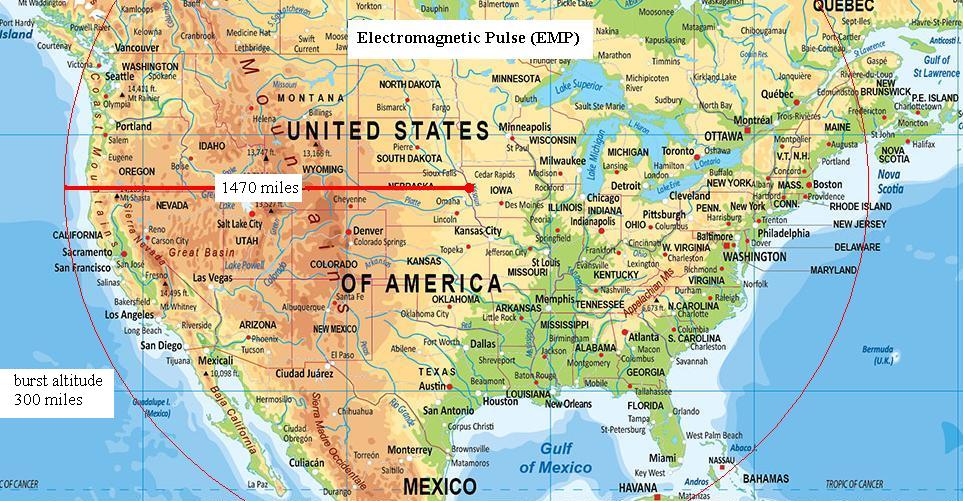 Here is a screen capture from N2YO.com.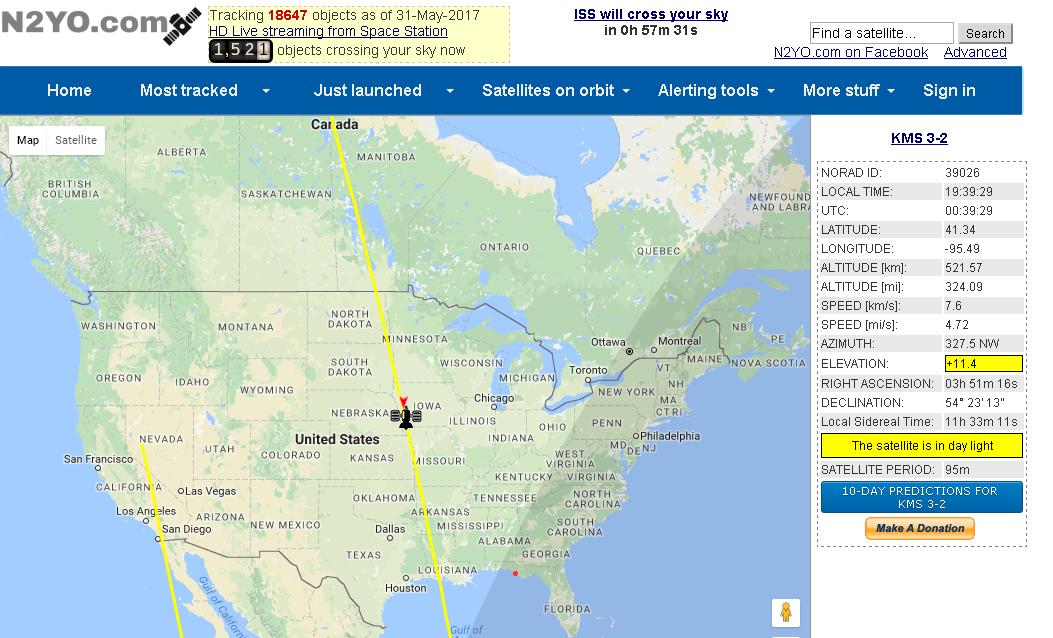 Fission is what you need for an EMP, not fusion. Two stage hydrogen bombs are not good for EMP weapons because the tritium- deuterium fusion reaction only produces a high energy 16.75 MeV gamma ray in 0.000033% of reactions. Almost all of the reactions result in 14.1 MeV neutrons and 3.5 MeV helium nuclei. Any gamma produced from these particles are not prompt. Deuterium-tritium gas is used in tokamaks for fusion research because it has the highest cross section and doesn't emit gamma rays ("clean"). Gamma rays are what we need for an EMP weapon. A nuke detonated in outer space doesn't have matter to couple the energy. The average gamma emitted from plutonium-239 fission has an energy of 7.8 MeV. The average gamma emitted from uranium-235 fission has an energy of 7 MeV. An EMP nuke should have more power with increased amount of fissioning material. Since a sloika is a one stage weapon and produces about 23 times the amount of fission as a 10 kiloton fission bomb it may in fact be the Super EMP bomb. I would think that the gamma produced by U-238 fission would be in the same range as that of U-235 and Pu-239 fission, but U-238 fission does result in more symmetric fission than the other two; daughter particles closer in size to each other. Layers of U-235 should be able to be added to the system as long as they are not close enough to the core or each other to cause supercriticality prematurely. This should enhance the fusion reactions, which results in more U-238 fission, and add to the yield because of its own fission. You would want to reduce the amount of material that could absorb gamma rays. So you would want a small mass explosive lense system and a small outer case or no case at all. It's kind of ironic because the Soviet Union produced the first deployable hydrogen bomb, the sloika. The US continues to deny this, refusing to call this a "true" hydrogen bomb because it doesn't match what they think a hydrogen bomb should be, two stages or more, and the US has never tested such a bomb as far as I know. This could be the bomb that destroys America.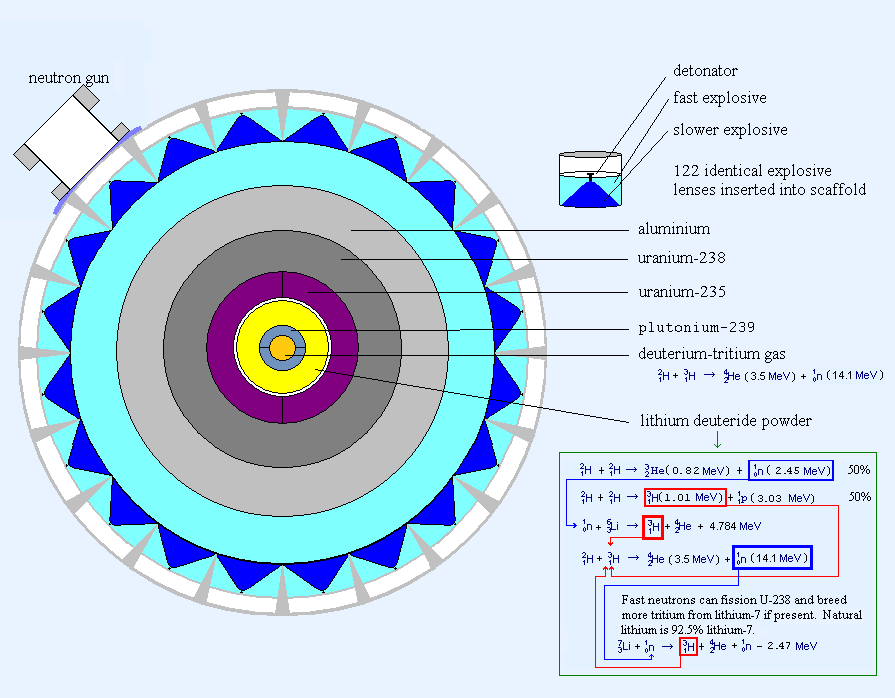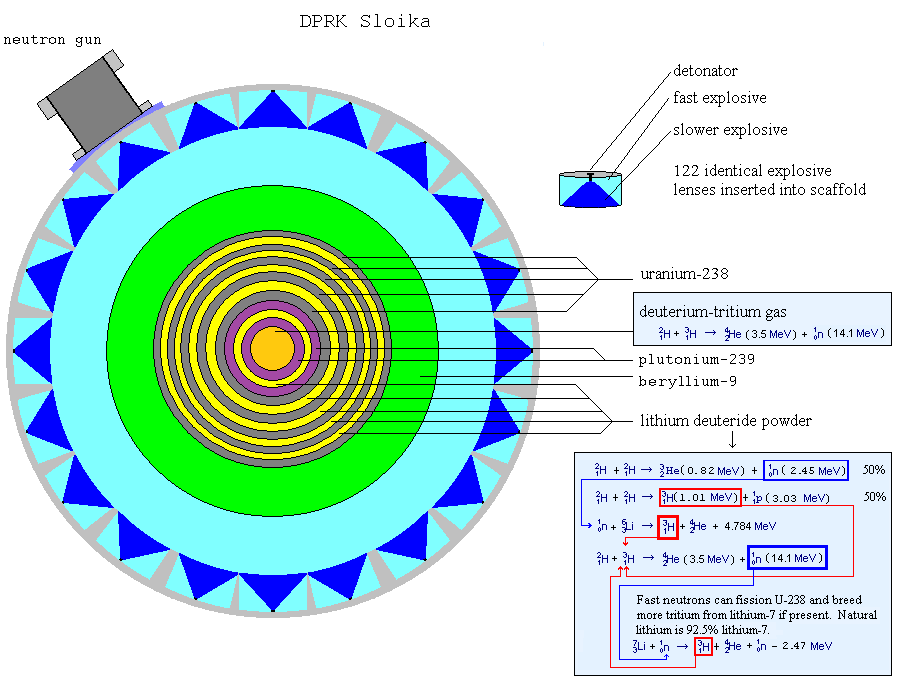 Space Program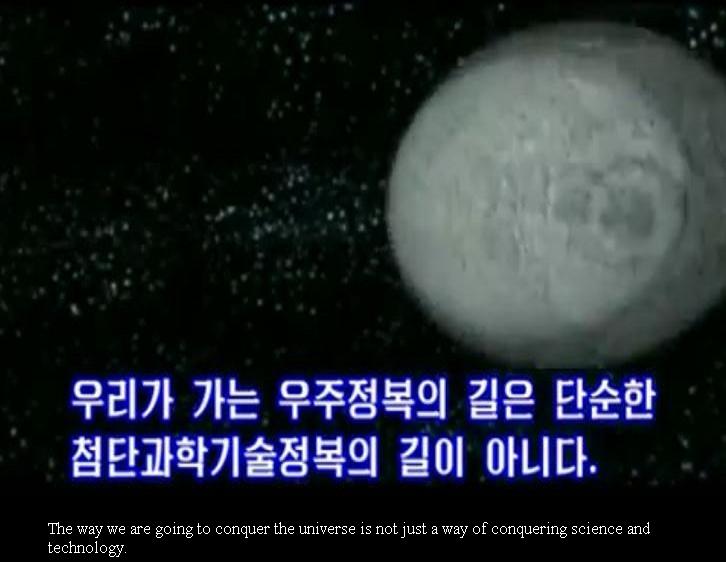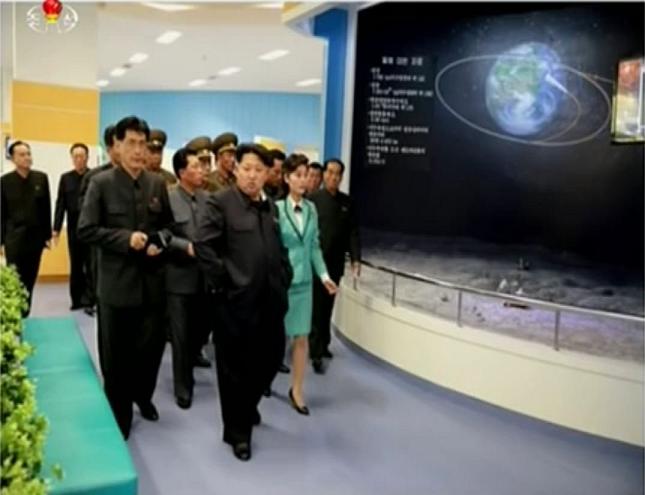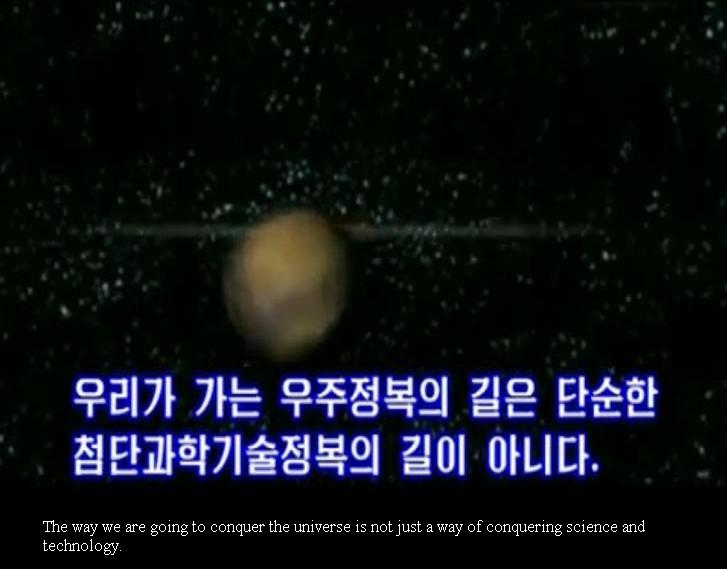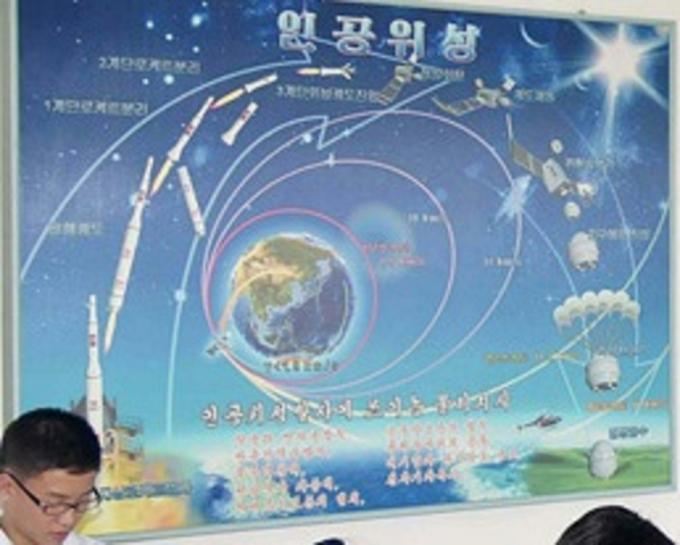 The Kwangmyongsong-4 satellite was launched atop the Kwangmyongsong《광명성》("lodestar" or "bright star") space launch vehicle on February 7, 2016. It is in a polar orbit at approximately 300 miles altitude. The Kwangmyongsong space launch vehicle is either identical to the Unha-3 space launch vehicle or slightly upgraded. The Unha-3 space launch vehicle is a three stage rocket. The first stage has four clustered Rodong engines with four verniers. The second stage has a single Rodong engine. The third stage is solid fueled. There is no question about the intercontinental range of this rocket as it has put a 200 kilogram satellite into orbit. There is no reason the DPRK couldn't have built an arsenal of these rockets armed with nuclear warheads hidden in underground silos before they developed proper ICBMs. The DPRK's missile research partner, Iran, has shown pictures of their underground missile storage facilities with ready to launch missiles in the erect position. Korea continues to develop their space program, (National Aerospace Development Administration, NADA,국가우주개발국), with a larger space launch vehicle in development.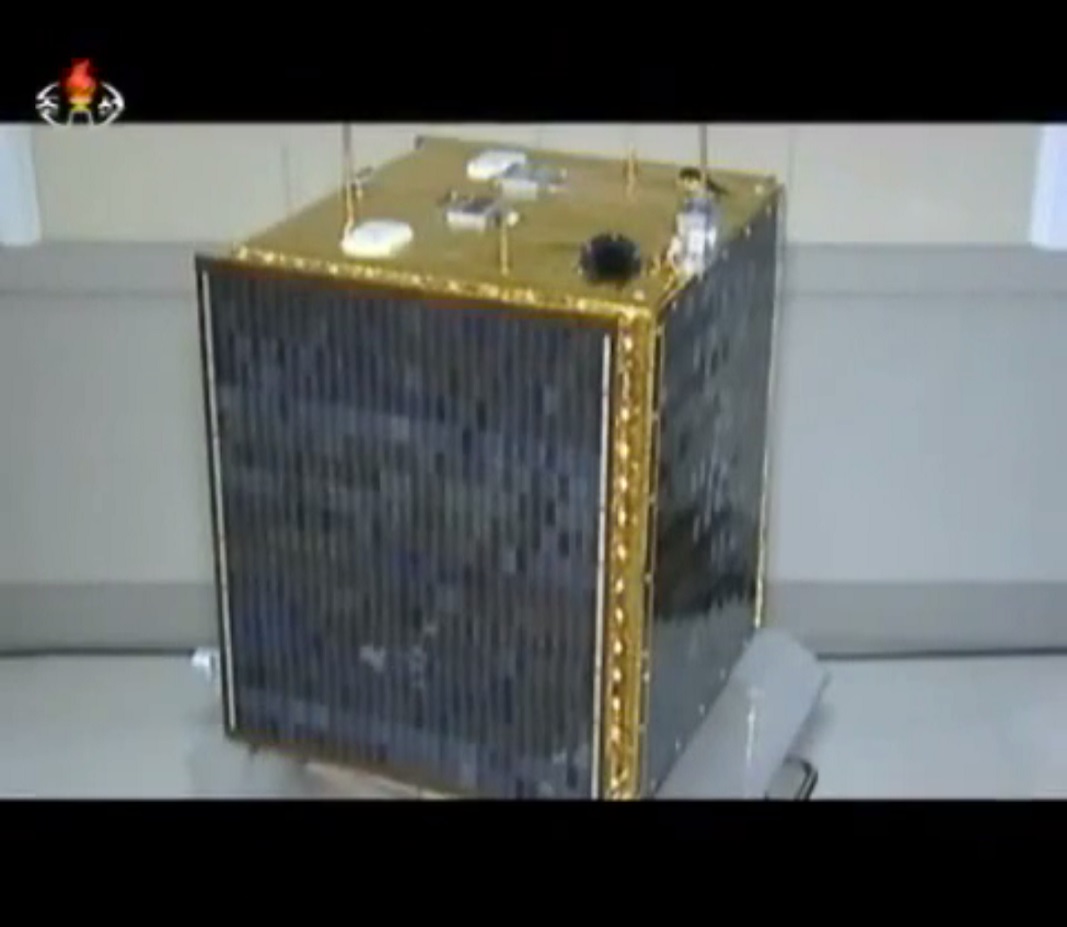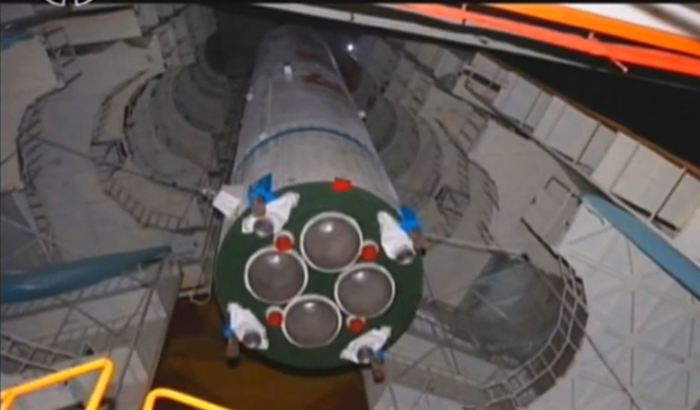 North Korea has been building tunnel networks since the 1950's. Tunnels leading into South Korean terrority have been discovered over the years. It is believed that many more have not been discovered. These are large tunnels designed to transport troops, tanks, missiles, nuclear weapons, etc. North Korea trained the Iranians in tunnel building. This is a picture from an Iranian tunnel network.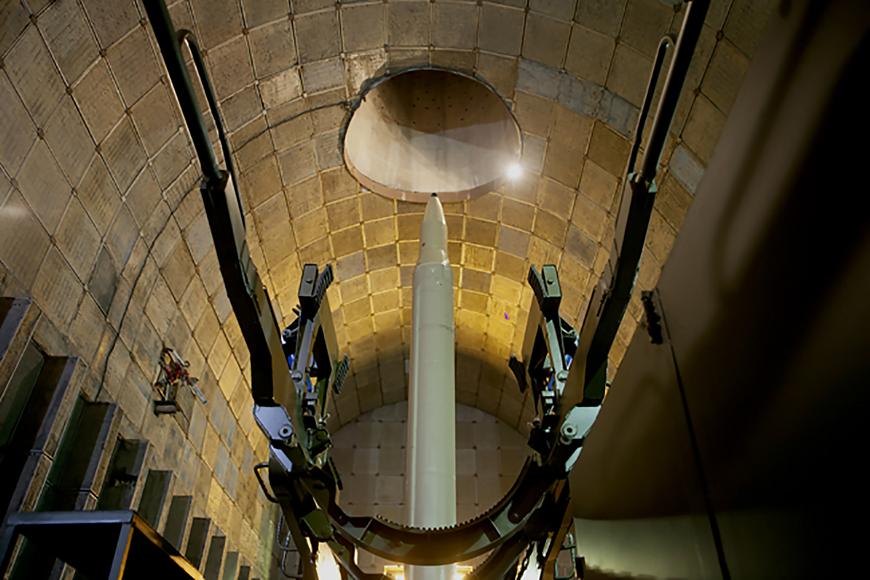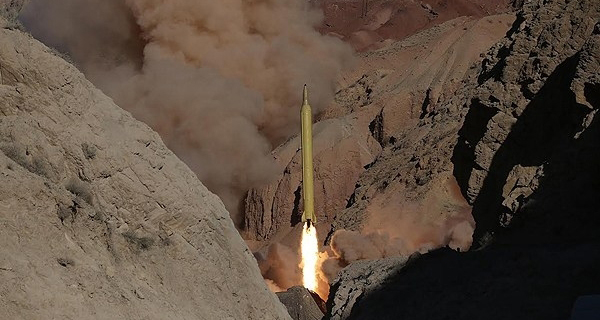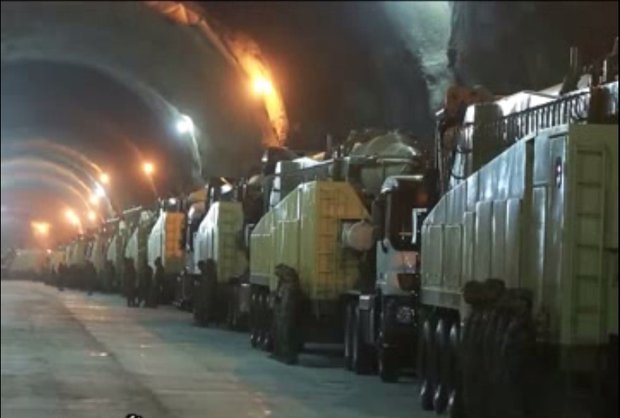 The Kwangmyongsong-3 Unit 2 satellite was launched atop the Unha-3《은하-3》, "Galaxy-3", space launch vehicle on December 11, 2012. It is in a polar orbit at approximately 300 miles altitude.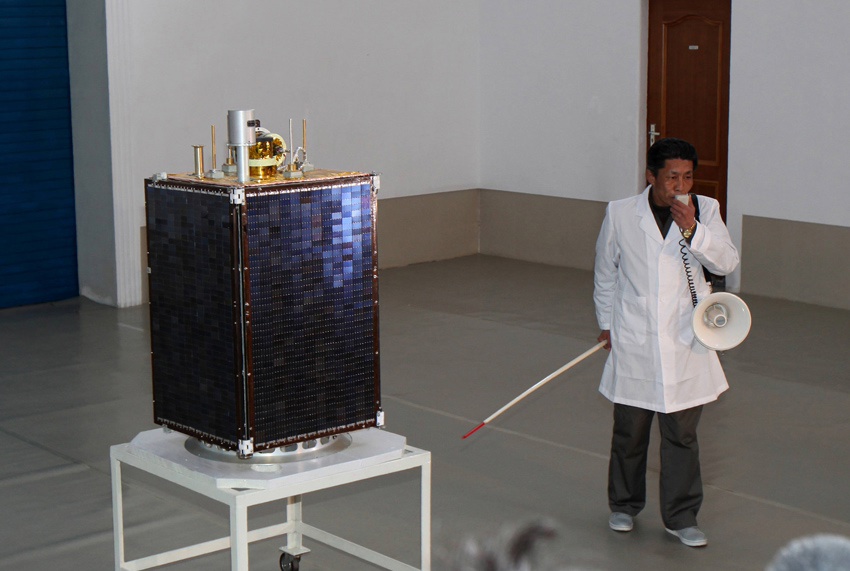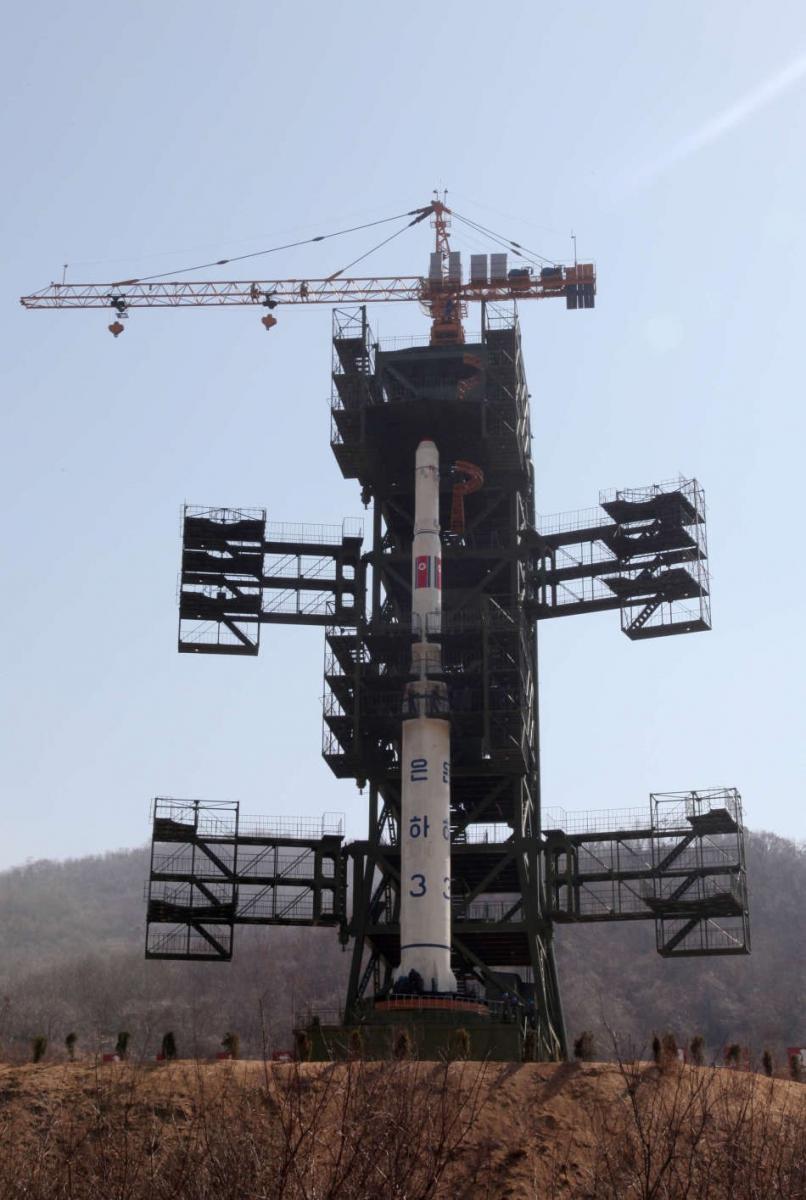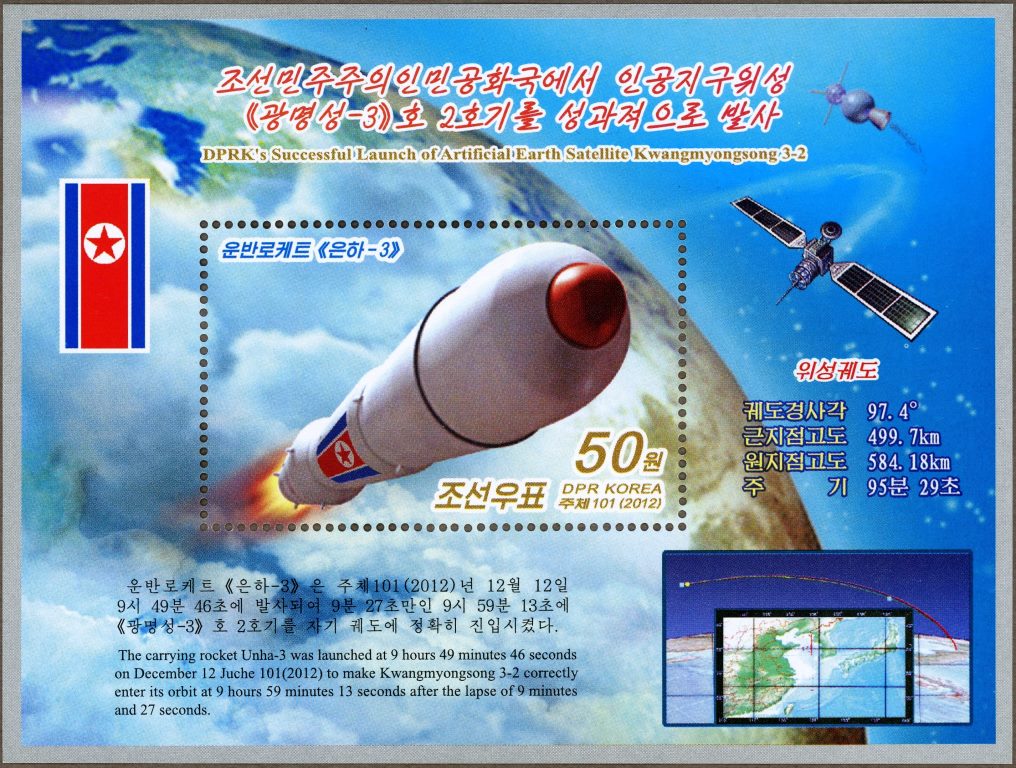 The Kwangmyongsong-3 satellite was launched atop the Unha-3《은하-3》, "Galaxy-3", space launch vehicle on April 13, 2012. The vehicle disintegrated during flight along with the satellite.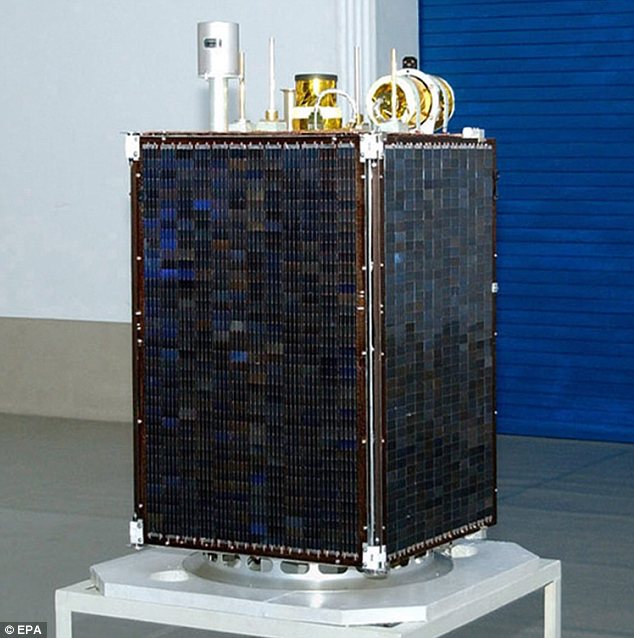 The Kwangmyongsong-2 satellite was launched atop the Unha-2《은하-2》, "Galaxy-2", space launch vehicle on April 5, 2009 according to the DPRK. The US claims this satellite failed to achieve orbit.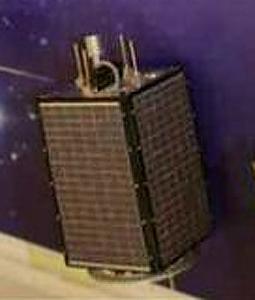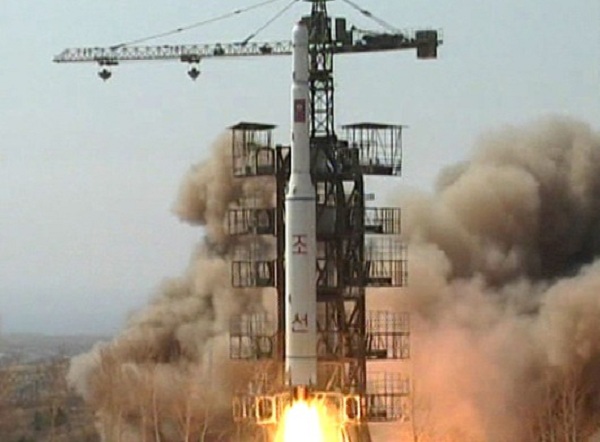 The Kwangmyongsong-1 satellite was launched atop the three-stage Paektusan-1 (Taepodong-1) space launch vehicle according to the DPRK. The US claims this satellite failed to reach orbit. The first stage has one Rodong engine with steering vanes. The second stage has one Scud engine. The third stage is solid fueled and spin stabilized before releasing the satellite.
Korea reported the success of the satellite launch as follows:
"Our scientists and technicians have succeeded in launching the first artificial satellite aboard a multi-stage rocket into orbit. The rocket was launched in the direction of 86 degrees at a launching station in Musudan-ri (40.8 deg N, 129.7 deg E) at 12:07 August 31, 1998 and correctly put the satellite into orbit at 12 hours 11 minutes 53 seconds in four minutes 53 seconds."
"The rocket is of three stages. The first stage was separated from the rocket 95 seconds after the launch and fell on the open waters of the East Sea of Korea 253 km off the launching station, that is 40 degrees 51 minutes north latitude 139 degrees 40 minutes east longitude. The second stage opened the capsule in 144 seconds, separated itself from the rocket in 266 seconds and fell on the open waters of the Pacific 1,646 km off from the launching station, that is 40 degrees 13 minutes north latitude 149 degrees 07 minutes east longitude. The third stage put the satellite into orbit 27 seconds after the separation of the second stage."
"The satellite is running along the oval orbit 218.8 km in the nearest distance from the earth and 6,978.2 km in the farthest distance. Its period is 165 minutes 6 seconds. The satellite is equipped with necessary sounding instruments. The satellite is now transmitting the melody of the revolutionary hymns in 27 MHz."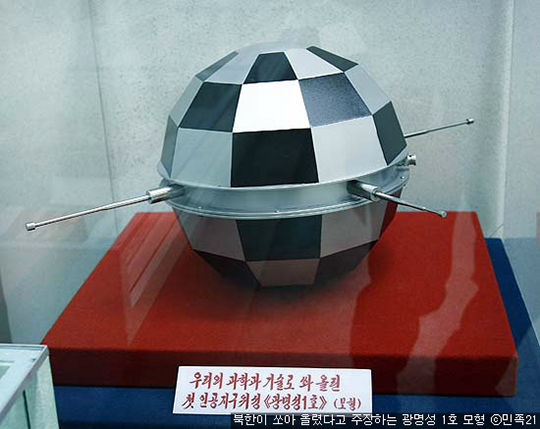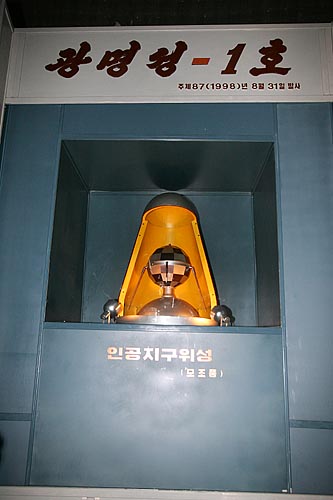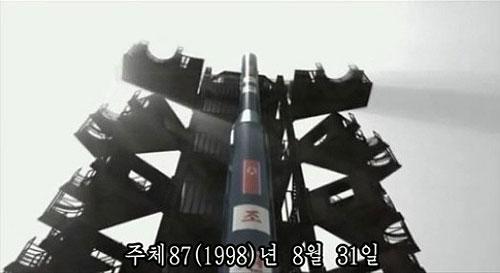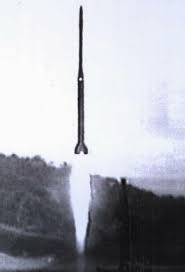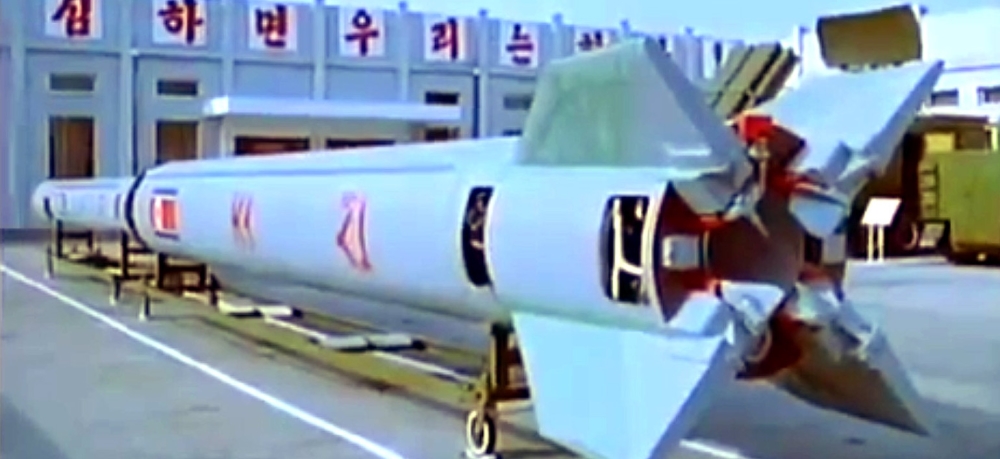 This new self-propelled gun has improved armor, better defensive countermeasures, and six wheels to support the increased weight as opposed to the previous five wheeled version.
Type-63 and PT-76 are amphibious.
The safest location in a building is the one which puts the most material between you and the atmosphere outside that is emitting gamma rays. This image was produced by the Lawrence Livermore National Laboratory.
One should also take iodine pills if nuclear war has started. The iodine will saturate your thyroid so that it will not uptake radioactive iodine-131 which is produced as a fission byproduct of nuclear explosions. Radioactive iodine-131 in your thyroid causes thyroid cancer. You may also want to take calcium because radioactive strontium-90 is a fission byproduct that your body misidentifies as calcium and causes bone cancer. Radioactive cesium-137 is also misidentified by your body as potassium. So you may want to take potassium as well. The radioactive iodine is the greatest threat, but it has a short half life of about a week. I would take iodine pills and a multivitamin if nuclear bombs have exploded.
Biological Weapons
Those who survive the nuclear attacks and radioactive fallout have biological weapons to contend with. The DPRK possesses the capability to deploy many agents: anthrax, botulism, cholera, Korean hemorrhagic fever, plague, smallpox, typhoid fever, yellow fever, dysentry, brucellosis, staph, typhus fever, alimentary toxic aleukia, and possibly ebola.
Anthrax bacterium( bacillus anthracis ) is one of the biological weapons that Korea possesses. Anthrax exists in two forms, live bacterium and spores. Live bacteria can be stored in a liquid. Live bacteria develop into spores that can remain dormant for thousands of years when the environmental conditions become hostile. Anthrax is weaponized in two ways, genetic modification to make it have a higher mortality once an individual is infected, and improving its transmissability by altering its physical characteristics. Genetic modification would strive to make the bacterium resistant to antibiotics, chemicals, heat, and cold. Anthrax's transmissibility is increased by developing the right size spores, around 10 nm, so that they get lodged in the alveoli of the lungs and coating the spores with silicon so that they don't clump together, which makes the very fine powder behave like a gas, penetrating nooks and crannies, anything that is not airtight. Weaponized anthrax can pass through paper, which happened with the envelopes during the 2001 anthrax attacks against liberal media and Democratic senators who were getting ready to vote on the Patriot Act during George Bush's Presidency. Anthrax can infect a person through the breathing in of spores, skin contact with live anthrax or spores, or ingesting live anthrax or spores. Anthrax infections are of three types: cutaneous, inhalation, and gastrointestinal. Anthrax produces a toxin, cleverly called "lethal toxin". Symptoms of anthrax infection include chest discomfort, cough, shortness of breath, fatigue, flu-like symptoms, small painless lesions that become black and necrotic, fever, vomiting of blood, bloody diarrhea, abdominal pain, compromised breathing due to lesions in the throat, mouth sores, inflammation of the intestinal tract, loss of appetite.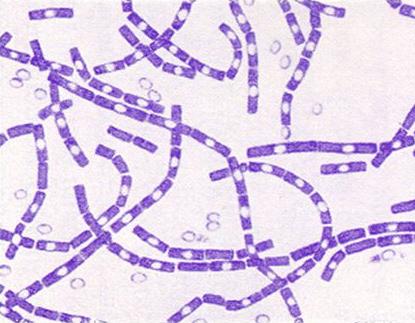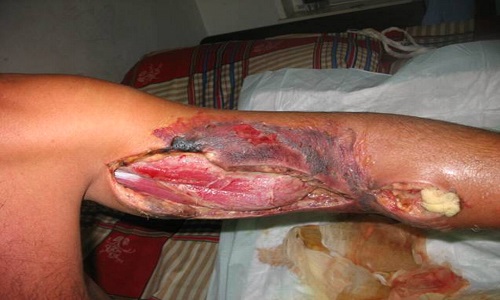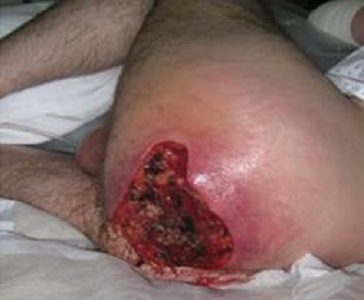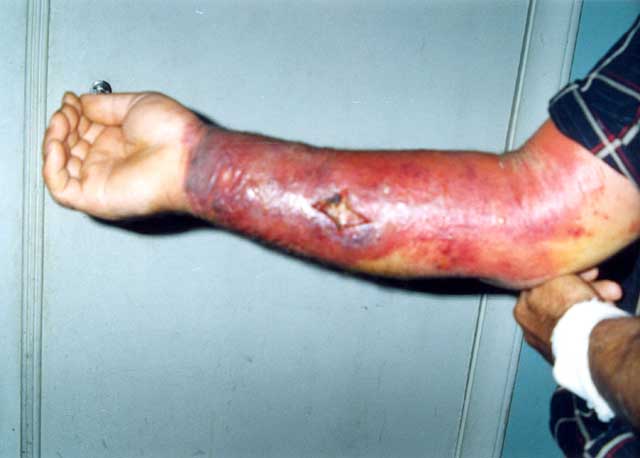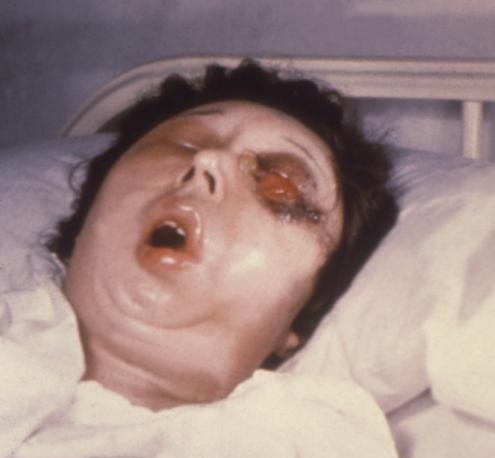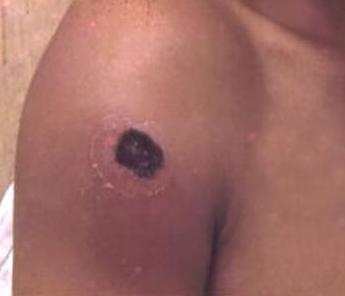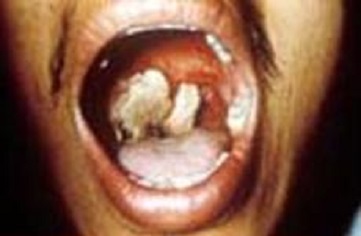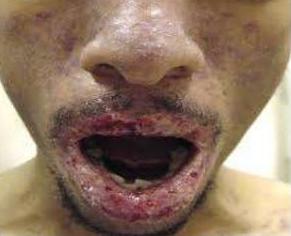 A 1 kilogram anthrax warhead will kill more people than a 1 kiloton nuclear blast.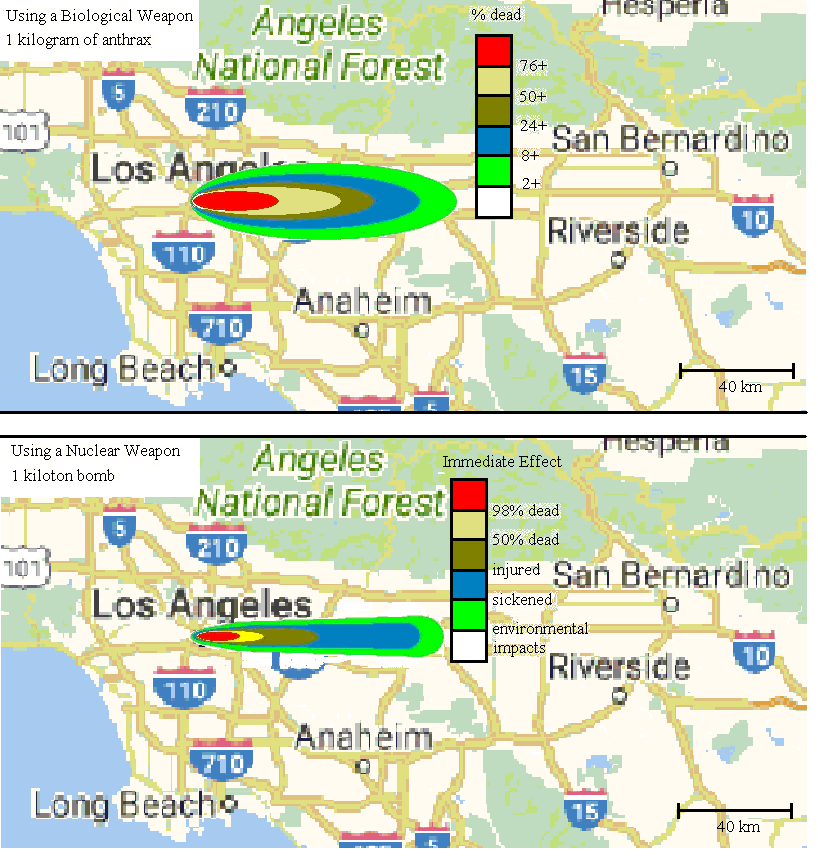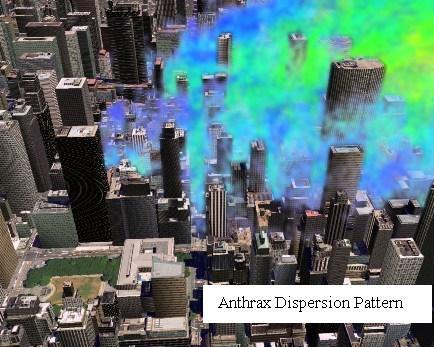 Smallpox virus( variola ) is another biological weapon that Korea possesses. Smallpox probably has been genetically engineered to defeat vaccines. Smallpox is spread by droplets in the air from coughing or sneezing, person to person contact, or by bodily fluids on surfaces. It can't remain alive in the environment indefinitely, however. People with smallpox develop pox, which look like pimples. These turn into scabs with time. Smallpox can be transmitted through scabs, and this is one of the crude pathways to weaponization. Several bodily fluids can be used to spread smallpox. The Soviet Union developed an aerosolized version of smallpox from infected chicken eggs requiring refrigerated warheads. This is probably how Korea does it. Symptoms of smallpox include back and muscle pain, fever, malaise, chills, rashes, bumps, blisters, scabs, scars, headache, and vomiting.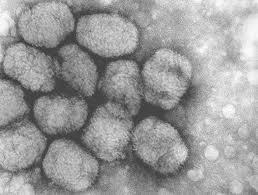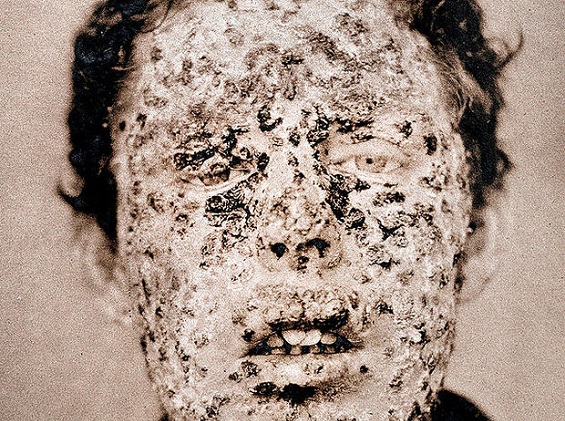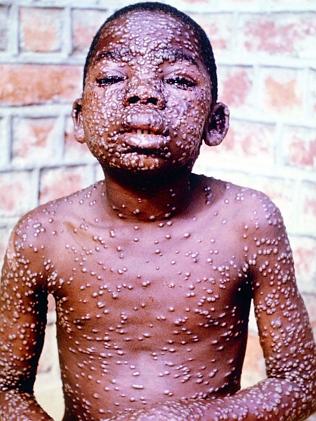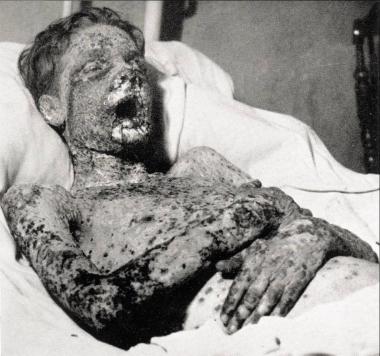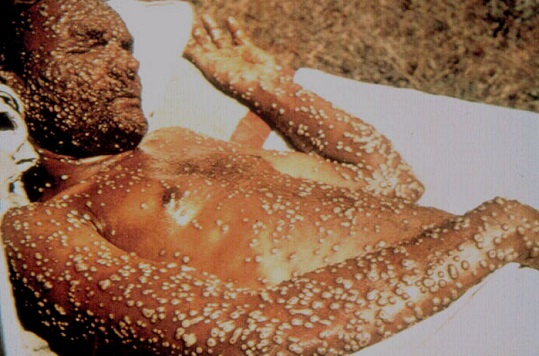 Plague( Yersinia Pestis bacterium ) is another biological weapon in Korea's arsenal. Plague, or Black Death, is spread by infected fleas, rat fleas or human fleas. Historically, Plague has been spread intentionally through rats and catapulting infected bodies over the walls of castles. The Japanese used Plague as a biological weapon during World War II by placing infected fleas in canisters of flour and dropping them on the enemy. Rats would eat the flour and catch the infected fleas. Modern weaponized plague is in the form of an aerosolized liquid containing the bacteria. Plague manifests in three forms, pneumonic, bubonic, and septicemic. The symptoms of plague include malaise, fatigue, body aches, sore throat, cough (possibly with blood), enlarged lymph nodes( buboes, hence bubonic plague), puss and bleeding of lymph nodes, blackish skin, headache, fever, stiff neck, seizures, confusion, nausea, vomiting, abdominal pain, constipation, diarrhea, blackened or tarry stool.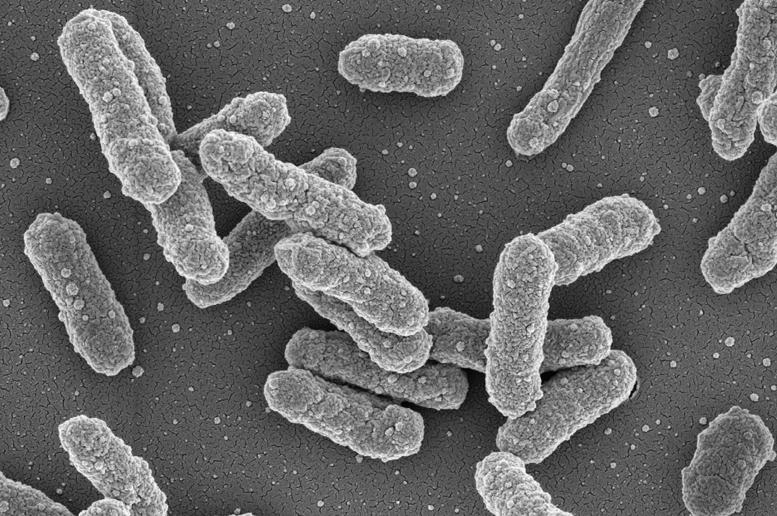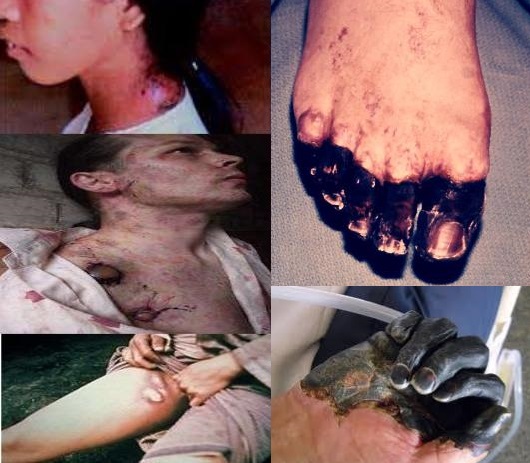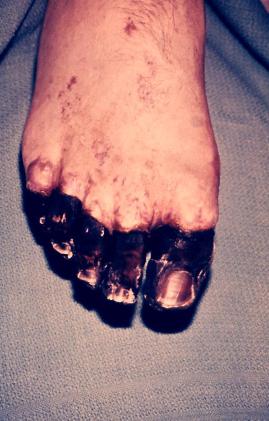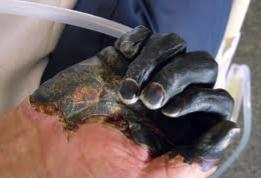 Ebola virus is another biological weapon that Korea probably possesses. They mentioned it by name in 2015 when they accused the US of creating it, which means they probably have it. Ebola virus causes hemorrhagic fever, bleeding from the eyes, ears, and other orifices, and has a very high mortality rate. It is spread through bodily fluids, usually from direct person to person contact. It can be contracted from droplets suspended in the air or from surfaces, but doesn't last long in the environment. Genetic engineering would strive to make it resistant to vaccines, chemicals, and the environment. The main problem with ebola is that it is very fragile. Aerosolizing it would probably damage the virus, and it wouldn't last long in the environment. It's possible that a genetically engineered virus could last longer in a liquid, but you would essentially have to get people to drink it. Ebola's strength is it's ability to spread because of its variable incubation time. Its incubation period varies from person to person, from 3 days to as long as three weeks. Any attack would probably involve secretly infecting large numbers of people in many cities. Symptoms of ebola infection include headache, fever, fatigue, sore throat, muscle pain, bleeding from eyes, ears, nose, and mouth, rash, diarrhea, vomiting, internal and external bleeding, impaired liver and kidney function.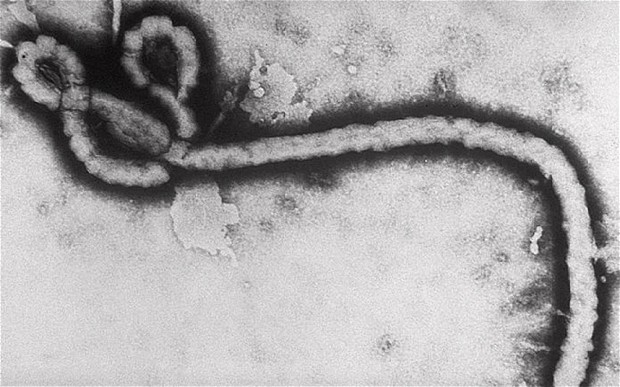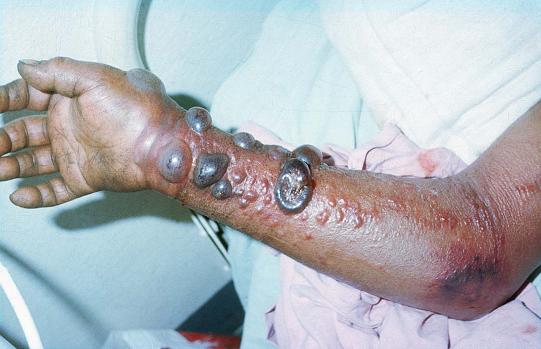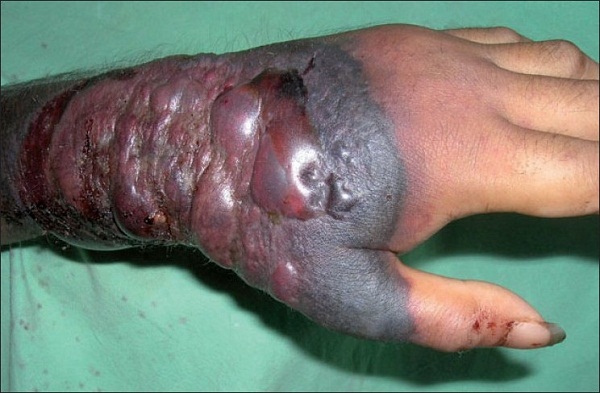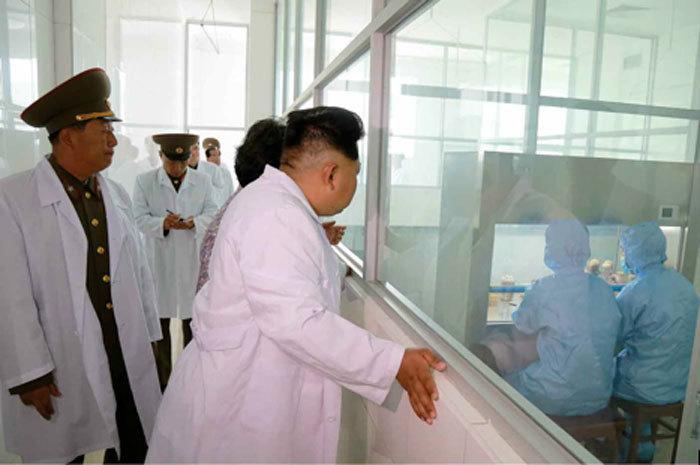 Doctor Thrax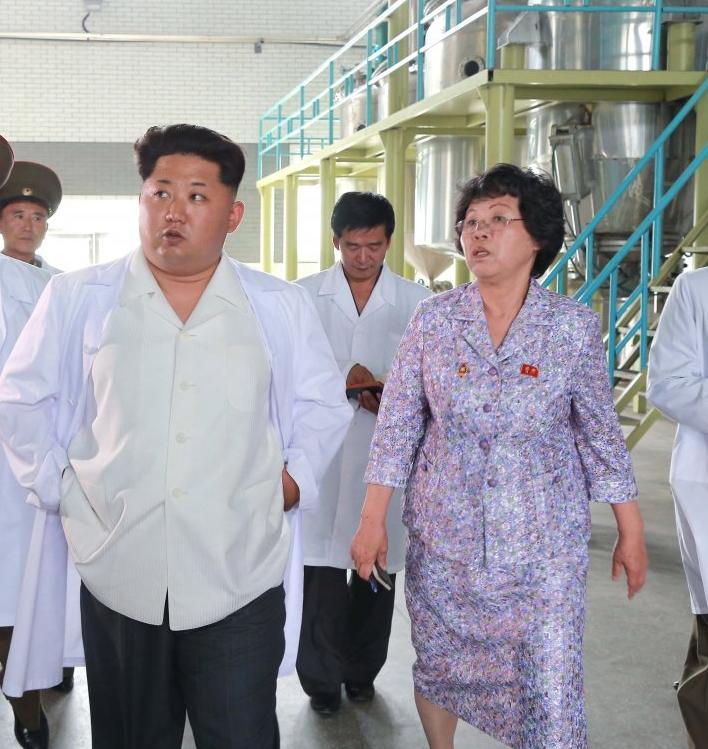 The Soviet strategy for World War 3 was to attack the survivors with warheads containing several different kinds of biological agents. If a person is infected with multiple viruses and bacteria, several different remedies for each biological agent probably could not be administered at the same time. A cure for one disease could make another disease worse. Injections would have side effects. Several injections could kill. Animals would be infected as well, eliminating the food supply, causing starvation.
Everything this man is wearing should be in your wardrobe.